Do you know what Cancel Tabs Closing is?
Cancel Tabs Closing is a Google Chrome extension described as a tool that can "cancel tabs closing by clicking the button." In other words, the application should help users restore closed tabs if they change their minds. If you have second thoughts quite often the software might seem rather handy, but we are not sure if such a simple feature is worth to risk the device's safety. Cancel Tabs Closing is considered to be a potentially unwanted program (PUP), which means it is not malicious. However, it does not say it is reliable either. If you wish to know how this extension could cause you trouble we encourage you to read the rest of the text and learn more about it. We can also assist our readers who decide to eliminate the suspicious application as we provide a removal guide just below the main text.
Cancel Tabs Closing seems to have a homepage called canceltabsclosing.info. After visiting the mentioned website, we noticed it provides End User License Agreement (EULA) and Privacy Policy (PP) documents. Users who have not reviewed any of these documents should at least have a look at the EULA's Limitation of Liability section. The statements there not only claim you agree that the use of the product is at your sole risk but also say the PUP's creators do not guarantee the tool will be "FREE FROM VIRUSES, "WORMS," "TROJAN HORSES" OR OTHER HARMFUL PROPERTIES." Knowing this it seems rather strange that at the same time the tool's description on the website says it is "100% Free & Safe." After all, how can it be one hundred percent safe when its creators do not guarantee it will be reliable and malware-free?
Moreover, the same document (EULA) states Cancel Tabs Closing could gather both personal and anonymous information that "MAY BE USED OR SHARED WITH THIRD PARTIES FOR PURPOSES OF DISPLAYING TARGETED ADVERTISEMENTS TO YOU." Unfortunately, it would seem the software's creators do not take any responsibility for such content either. Consequently, there might be a possibility some of the ads could be potentially dangerous, e.g., they might offer to install more PUPs or other untrustworthy programs alike. In the worst case scenario, the third-party ads could lead users to malicious websites filled with malware or created to scam users.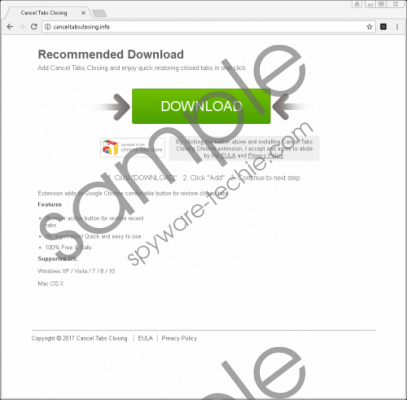 Cancel Tabs Closing screenshot
Scroll down for full removal instructions
Given the risks related to the extension's usage we discussed in the text, we do not think it is worth to leave it installed. Even without Cancel Tabs Closing, you can easily restore any closed tab by clicking on the Customize and Control Google Chrome button. Then all you have to do is go to History and select the links you wish to load again. Therefore, we do not think you will lose anything if you decide to eliminate this questionable application.
The removal guide located at the end of this text will show how to deal with the PUP through Google Chrome's extensions menu, so users who need any guidance should have a look at these steps. There is one more way to get rid of the unwanted plugin that some users might find easier, not to mention more beneficial to the system. We are talking about an antimalware tool with which you could scan the whole system and erase not just Cancel Tabs Closing but also other possible threats too.
Delete Cancel Tabs Closing
Press ALT+F.
Choose More tools and select Extensions.
Select the PUP.
Press the trash bin button located next to it.
Click Remove.
Restart your browser.
In non-techie terms:
Cancel Tabs Closing is advertised as a useful and safe tool for Google Chrome users, but our researchers learned it is not entirely true. It looks like the application's developers cannot guarantee the tool will be malware-free or that any content you encounter through it will be reliable. Speaking of the extension's functionality, we do not think it can be of any use as the browser it is compatible with already has a feature allowing to restore closed tabs. Consequently, we recommend erasing this questionable application with no hesitation. Anyone who wants to delete the PUP manually can do so while following the removal guide located above. For users who prefer automatic solutions, we would recommend employing a reputable antimalware tool.