Do you know what CALL MICROSOFT 900 839 260 is?
CALL MICROSOFT 900 839 260 is a fake warning which will be shown for you if you end up on an untrustworthy website and get redirected straight to news-info.site containing this fake message. Users who see the CALL MICROSOFT 900 839 260 fake warning in the form of pop-ups every day no matter they surf the web or not should blame a malicious application actively working on their computers for displaying these irritating messages. We can assure you that your system is fine, and the only thing you need to do is to make sure that CALL MICROSOFT 900 839 260 fake warnings never appear on your screen again. If you are sure that you see it not because you have clicked on some kind of malicious link, and this alert keeps showing up on the screen even though your web browser is closed, it is very likely that you will need to go to delete an untrustworthy program installed on the computer. Believe us; if you do not know about it, it does not mean that it is not there.
It is impossible not to notice the fake CALL MICROSOFT 900 839 260 alert. It is because it starts playing a warning sound immediately, and there are two warnings on top of each other users see. The first one is a message in English "Check Your Computer Now!", and the second one is a pop-up on top of it in Spanish. Both of them promote the same telephone number 900-839-260. They also both try to convince users that an unexpected error has occurred and it can only be fixed by contacting Microsoft by the provided number. The background warning (the one which appears underneath the pop-up in Spanish) tells users that data, such as credit card details, e-mail passwords, Facebook, Skype, AIM, ICQ, and other chat logs, and, finally, private photos is exposed to risk. The Spanish alert tries to scare users into calling the provided telephone number by telling users that there is a serious problem associated with system services, the hard drive might crash soon, there are errors in the registry, some DLL files are corrupted, and unauthorized remote connections have been detected. Even though this sounds intimidating, do not rush to contact Microsoft technicians because it is very likely that cyber criminals are waiting for you at the other end of the line instead. If you make a call to them, they might try to sell you a useless application, get as many personal details about you as possible with the intention of selling this information later, or they might just ask you to pay money for them if you want to get all the issues fixed and alerts removed. Since CALL MICROSOFT 900 839 260 is nothing more than a fake alert, users can get rid of it themselves, and there is definitely no point in dialing the given telephone number. Most probably, your job will be to detect and erase malicious software if you keep seeing bothersome alerts every day.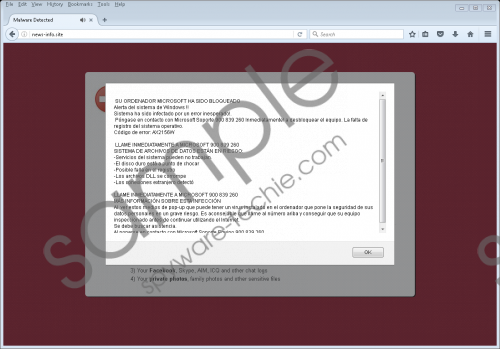 CALL MICROSOFT 900 839 260 screenshot
Scroll down for full removal instructions
Malicious software is capable of entering computers secretly, so it is not surprising at all that so many users do not know about the presence of malware on their computers. The method commonly employed by cyber criminals to spread undesirable software is called bundling. Specifically speaking, users download these bad applications and install them without realizing that together with free applications, for example, photo editing software from P2P and similar web pages. Malware is usually presented as an additional offer, and users agree with its installation unknowingly by skipping the installation steps too quickly. Be more careful with free software you download from third-party websites and do not forget that it is a must to have a security application installed on the computer if you go surfing the web every day and tend to download all kinds of free programs.
It should be possible to close CALL MICROSOFT 900 839 260 fake alerts easily, but it does not mean that they will not show up on your screen again if there is a malicious software installed on your computer. You should go to reset all your browsers to their default settings and remove all suspicious programs through Control Panel to make sure that fake alerts do not show up on the screen ever again. If, after doing that, fake CALL MICROSOFT 900 839 260 messages are still visible from time to time, it would be a smart move to scan the computer with an automatic scanner, such as SpyHunter.
Delete malicious software from your PC
Windows XP
Click on the Start button.
Select Control Panel and click Add or Remove Programs.
Select the undesirable software.
Click Remove.
Windows 7/Vista
Open the Start menu (click on the bottom-left corner).
Click Control Panel to open it.
Click Uninstall a program.
Right-click on the questionable application you have discovered and then click Uninstall to make it gone.
Windows 8/8.1/10
Press Win+X simultaneously.
Select Control Panel from the menu that shows up and go to Uninstall a program.
Select the application you wish to erase.
Click Uninstall.
Mozilla Firefox
Open Mozilla Firefox.
Launch the Help menu (Alt+H).
Click Troubleshooting information and then go to locate the Refresh Firefox button.
Click on it.
Click Refresh Firefox again.
Google Chrome
Open your browser.
Press Alt+F.
Click Settings.
Go to the bottom and select Show advanced settings.
Click Reset settings.
Click the Reset button.
Internet Explorer
Open Internet Explorer.
Go to the Tools menu (press Alt+T).
Click Internet Options.
Click Advanced to open this tab.
Click Reset.
Enable Delete personal settings by putting a tick in its box.
Click Reset in the confirmation window.
In non-techie terms:
If you do not see CALL MICROSOFT 900 839 260 fake alerts anymore, it must be true that you have deleted a malicious application displaying them on your screen. Unfortunately, this does not immediately mean that your computer is clean. Malicious components might still be active on your system, so it would be a good time to invest in an automatic scanner and then launch it to find out whether it is true. Of course, there is no need for you to do that if you have already scanned your PC with a reputable malware remover to get rid of fake CALL MICROSOFT 900 839 260 pop-ups because all other infections have been already erased together with malware responsible for displaying fake CALL MICROSOFT 900 839 260 warnings.