Do you know what ByteMovie is?
Do not rely on ByteMovie to provide you with free access to movies. Our research team has researched this program, and we have found that it represents websites that, at the moment, do not work at all. Even if they did, it is unlikely that it would be safe for you to trust this program, considering that watching movies for free usually involves illegal activity, and, as you know, illegal activity is often supplemented by cyber criminals. In reality, this program was not designed to provide you with useful services. They are used as bait to trick you into installing an ad-injecting application that will start serving ads as soon as you install it onto your PC. If you do not delete ByteMovie from your computer, you might encounter malicious advertisements, and your virtual security could be jeopardized. We are here to help you evade this risk, and, right now, you need to read this report.
The official website of ByteMovie (bytemovie.com) suggests downloading an app that supposedly allows watching free movies and that provides exclusive offers. There is no information regarding the features of this app, which is not a good sign. If you do not know how a program works, it does not matter how great it appears because it is completely unpredictable. You can check the Privacy Policy attached to this website to learn more about this adware, and this is what we recommend whenever you download any program. If you had checked this Policy before installing the ad-supported program, it is most likely that you would not have downloaded it at all. For one, this policy reveals that information about you can be shared with the so-called "interested parties." Furthermore, it is stated that third-party advertisers are permitted to install tracking cookies to collect information about you. Needless to say, it is dangerous to trust the intentions of parties that you are not familiar with, which is why you have to be cautious.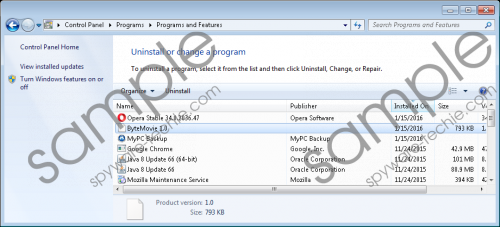 ByteMovie screenshot
Scroll down for full removal instructions
The interface of ByteMovie looks like a simple window entitled "Blyte Movies," and it is meant to provide free movies. As mentioned previously, this window simply represents other websites. Overall, this is not what raises most questions. It is much more unnerving that once you launch this program, a different window (Internet Explorer) will pop up showing you fake prize giveaways and other suspicious offers. Careless users interact with the offers presented because they are attractive. Well, their attractiveness might be based on your browsing history and too-good-to-be-true deals. Our research team believes that the main objective behind ByteMovie is to show advertisements. These ads belong to third parties, and, since they are unknown, you have to consider them being malicious. Do you want to be bombarded with ads that could have been set up by cyber criminals? If you do not, delete adware.
It was found that ByteMovie – just like its clones, FitnessLance, BeautyBrilliant, etc. – can be spread along with third-party programs. If you use unfamiliar installers, dangerous infections could be spread along with this adware. If you use the official installer, you might encounter potentially unwanted programs (e.g., System Healer) and adware. Although this type of software is not critically malicious, you should not underestimate it. If you wish to erase all threats and unwanted programs, as well as reinforce Windows protection, install an anti-malware tool you can trust. If you want to take full responsibility, start by scanning your computer. If you detect dangerous threats, erase the first. Otherwise, you can move with the instructions below.
Delete ByteMovie from Windows
Delete from Windows 10
Tap Win+R to launch RUN and enter Control Panel.
Move to the Uninstall a program menu.
Right-click the program you wish to erase and click Uninstall.
Delete from Windows 8.1 and Windows 8
Click the Search icon on the Charm Bar (in Metro UI).
Type Uninstall a program and launch this utility.
Right-click the unwanted program and select Uninstall.
Delete from Windows 7 and Windows Vista
Open the Start menu (click the Windows icon on the Taskbar).
Open Control Panel and move to Uninstall a program.
Right-click the undesirable program and choose Uninstall.
Delete from Windows XP
Click the Start icon on the Taskbar and open Control Panel.
Click Add or Remove Programs.
Select the undesirable application and click the Remove button.
In non-techie terms:
Although ByteMovie promises attractive services, we suggest eliminating this adware from your PC. You can do so using an automated remover, or you can use the guide above to get rid of it manually. The guide below represents a plan B. This guide shows how to install anti-malware software in case your computer gets taken over by malicious infections and you are unable to eliminate them in a normal way. Hopefully, you will not need to resort to this, but keep in mind that there is always a way to erase unwanted programs and infections. If you have questions regarding the removal of any suspicious programs, feel free to initiate a discussion below.