Do you know what Byoml is?
Have you decided to install Byoml because it promises to show you inspirational quotes and tips to make your life "healthier and happier?" If you have, you now need to think if that was such a good idea. The extension presents itself via the new tab page on the Chrome browser, and it definitely has a very appealing design. That put aside, it is now known that the extension can showcase sponsored links via its search tool, and it can hide behind reputable search engines to do that. On top of that, it records and shares information about you, which most users will not be comfortable with. If you agree that this is strange, you might decide that you want to delete Byoml, and we support this decision completely. Scroll down to learn how to remove this potentially unwanted program (PUP), or continue reading if you feel like you want to learn about the extension first.
Genieo is the creator of Byoml. It is also a creator of SearchItApp.com, which is classified as a web browser hijacker. The company presents the Privacy Policy that supports the PUP at byoml.com/privacy, and it states this: "Genieo may share the information with its subsidiaries and affiliated companies who have undertaken to protect your privacy in accordance with the Policy." Are you comfortable with the company disclosing information about you to parties you know nothing about? If you are not, you have the first motive to remove Byoml from your web browser. Although even the providers of legitimate and trustworthy services do not always disclose their associates, you need to pick and choose which parties and which services you can trust to manage information about you. The second reason you should consider removing the PUP is the search service. If you have entered keywords into the presented search box already, you know that the PUP routes to Yahoo or Bing search engines.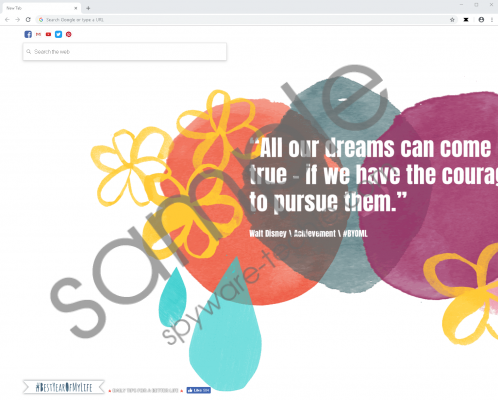 Byoml screenshot
Scroll down for full removal instructions
Unauthorized redirecting is not a thing you should ignore. Sure, Byoml might redirect you to an engine you are familiar with or already use as your default search provider, but interacting with the results that are shown to you is not a good idea. Why? That is because the results you see might have been injected by the PUP. Yes, the search engine you are facing is legitimate, but the results could be modified, and that is why we classify Byoml as a PUP. If you agree with us that extensions capable of redirecting and showing questionable results are not exactly trustworthy, you need to think about deleting the extension. If your homepage or search provider was replaced with search.byoml.com – which did not happen in our case – you will want to adjust browser settings too.
If you downloaded Byoml from the official website (byoml.com) or using the installer on the Chrome web store (chrome.google.com/webstore/detail/byoml/lofpmibabeibcaoaddiljhkbjmfflphk/), it is possible that there are no other PUPs or threats you need to worry about. On the other hand, if you used a third-party installer – for example, the extension could have been offered as additional freeware when installing something else – you want to run a full system scan to make sure that threats do not exist. If they do, do not hesitate to install a legitimate anti-malware program that will find and remove Byoml along with other unreliable pieces automatically. Otherwise, follow the instructions below.
Delete Byoml from Google Chrome
Open the browser, tap Alt+F, and move to More tools.
Click Extensions, identify the unwanted add-on, and click Remove.
Tap Ctrl+Shift+Delete to access the Clear browsing data menu.
Choose time range and boxes and click Clear data.
In non-techie terms:
Byoml is an extension that is meant to inspire you, but, instead, it confuses and raises questions. Though inspirational quotes are presented via the new tab page as promised, the PUP also tracks information and shares it with third parties, redirects searches to a third-party search engine, and modifies the results to show sponsored content. Due to these reasons, removing Byoml might be a good idea. You can follow the instructions above to eliminate the PUP manually, but you also need to think about implementing anti-malware software. It will help you if there are other programs or even infections that require removal, and it will secure your system to prevent malware from slithering in and to ensure that you are not duped into downloading malware or PUPs yourself.