Do you know what Buzzsearch Deals is?
Windows security researchers have discovered that whilst Buzzsearch Deals looks like a regular browser extension in reality this is an advertisement supported program, which is usually referred to as adware. The suspicious application has been created on the same platform as BatBrowse Deals, Qualitink and similar add-ons. All of these programs are bound by several things. First of all, they all are represented in the same manner. Secondly, none of them can be downloaded from their official pages (e.g. mybuzzsearch.com). Unfortunately, this means that the extension could be infiltrated onto the PC by third parties which often do not inform about secondary installations. Do you want to delete Buzzsearch Deals? Continue reading to learn why the removal of this application is so important.
Have you discovered Webcake installed onto your Google Chrome, Mozilla Firefox and Internet Explorer browsers? Have the home page/search provider have been replaced to aartemis.com? If this is what you are dealing with you need to check for the existence of Buzzsearch Deals as well because these are the programs that adware travels bundled with. Any of these applications install together with HTTP cookies which are supposed to track your virtual activity and record search history. Some web cookies can be used to store login data as well, which is why you need to be extra cautious about the cookies existing on your browsers. All in all, it is not the cookies that you need to be intimidated by – it is the third parties which may use the collected information. Affiliate parties could wish to retrieve your personal activity so that advertisements interesting to you personally could start bombarding your browsers. Since there is no way of telling who these affiliates are you should be extra cautious about the offers you are presented with.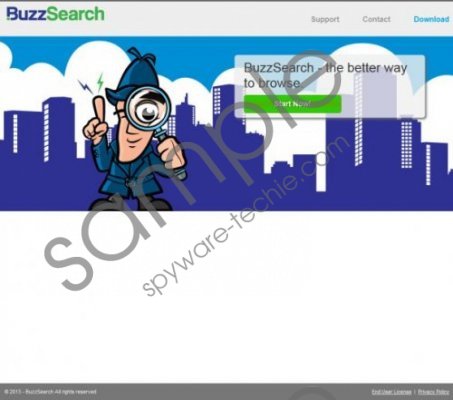 Buzzsearch Deals screenshot
Scroll down for full removal instructions
In order to delete Buzzsearch Deals from the computer and affected browsers you can follow the manual removal guides presented below. As soon as you get rid of the undesirable plugin, you need to check the computer for other unreliable programs and delete them as well. Finally, it would be smart to examine the operating system with a scanner to check if your PC is clean and ready to be used. Click the download button below to install an authentic SpyHunter's scanner.
Remove undesirable programs
Remove from Windows XP:
Open the Start menu, click Control Pbanel and select Add or Remove Programs.
Select the application you wish to get rid of and then click Remove.
Remove from Windows Vista and Windows 7:
Open the Start menu, select Control Panel and click Uninstall a program.
Now right-click the application you wish to delete and select Uninstall.
Remove from Windows 8:
Right-click on the Metro UI start screen and select All apps.
Move to Control Panel and click Uninstall a program.
Right-click the undesirable program you want to delete and select Uninstall.
In non-techie terms:
Buzzsearch Deals is a browser plugin which is usually considered to be an adware program because it may activate a number of advertisements flooding your browsers. Trusting these adverts could be a serious mistake, and so we advise that you delete any unreliable programs. We recommend installing automatic malware detection and removal software to ensure that your personal computer is protected against any illicit activity at all times.
Aliases: BuzzsearchDeals.