Do you know what Buzzdock ads is?
Buzzdock ads might be the reason your web browser is flooded with third-party commercial ads and annoying pop-ups. This adware should be removed without any hesitation if it is found running on your operating system since in reality this program holds not beneficial values. In most cases, it is advertised as a great tool to improve your internet searches by far. It should help you personalize your searches; unfortunately, it is not true, to say the least. Such claims are mostly used to make unsuspecting users download and install a worthless piece of software. All that this intrusive application is capable of is causing major disturbances while you are browsing the web. Avoid such instance by executing the complete removal of Buzzdock ads as soon as possible. Use the removal guide that we provide below to achieve this task.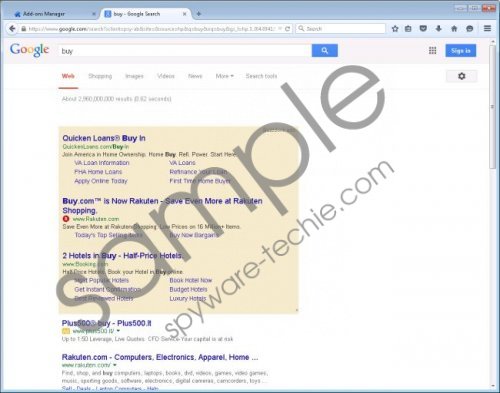 Buzzdock ads screenshot
Scroll down for full removal instructions
It is important to take a few preventative steps in order to reduce the risk of getting on your PC infected with Buzzdock ads or other suspicious program. Make sure to stay away from all the third-party download websites since they are known to provide bundled installers. Such installers are known to be the primary source of various questionable programs. Besides that you are also advised to learn about the program you wish to install before even downloading it. This is so because it is widely known that numerous other suspicious programs used devious marketing strategies to trick users. Lastly, but most importantly make sure to install a professional malware detection and removal tool if you do not have once already. Such a tool provides overall system security at all times while it would also warn you about suspicious installers of websites in advance. By practicing safe browsing habits with an active antimalware tool, your system will remain safe and secure at all times.
Once Buzzdock ads gains access to your PC, it acts like so many other adware programs of today. The primary indication that this adware is up and fully running on your operating system is a web browser flooded with numerous third-party commercial ads and annoying pop-ups. All of such unwanted content is presented to you in an utterly random way whether you like it or not. It goes without saying that Buzzdock ads will in no way improve your online experience. In fact, it will do the opposite since you will need to fight through all of those ads and pop-ups every single time you will decide to browse the web. This will make browsing the web the way you are used to impossible. Make sure to stop this invasive activity by conducting a complete removal of Buzzdock ads as soon as possible.
Make sure to remove every single bit of Buzzdock ads because our research team has discovered that this adware program could be used by other Internet-based infections as security breach to enter your operating system in a quick and easy way. Such instance can be avoided by conducting an in-depth analysis of your operating system for potential leftovers of Buzzdock ads.
How to remove Buzzdock ads from your PC
Windows Vista and Windows 7
Click the Windows button.

Select Control Panel.
Click the Uninstall a program option.
Select Buzzdock and click Uninstall.
Windows XP
Click Start.
Select Control Panel.
Click Add or Remove Programs.
Uninstall the unwanted application.
Windows 8
Move the mouse pointer to the lower-left corner of the screen.
Right-click and then select Control Panel.
Click Uninstall a program.
Right-click Buzzdock ads.
Select the Uninstall option.
In non-techie terms:
Some users find manual removal and the analysis of their operating system too complicated. If you are such a user, you should now worry because we provide a removal guide below that will help you delete this adware program in an automatic way.