Do you know what Browsing Guard Extension is?
Browsing Guard Extension is a potentially unwanted program (PUP) that will change your Google Chrome browser's settings immediately after you install it yourself, or it somehow manages to affect your web browser without your knowledge. We understand why some people install this piece of software voluntarily on their computers. They expect that they could perform web searches privately. We cannot blame those users because Browsing Guard Extension is promoted as a very beneficial application: "Search the web without tracking, protect your history and personal information." Have you installed this browser extension too? If so, you should disable it right away. No, it is not considered malicious software, but we cannot say that it is fully trustworthy software either because researchers have found evidence that it is nothing more than a potentially unwanted application. You should read the rest of this article to find more about it. If you decide to remove it after reading what our specialists have to say about it, you should read the last paragraph carefully because it will explain to you how this undesirable extension can be removed easily and quickly.
A bunch of people install Browsing Guard Extension on their computers expecting that it will make all their searches private. Yes, you can activate the "private search" by typing P and pressing Tab on your keyboard, but we still cannot say that there is nothing wrong to keep this browser extension active. No, it is not a harmful malicious application; however, if it stays active, http://mps.eanswers.com/search, a search tool promoted by Browsing Guard Extension, will stay set in the place of your default search provider. As a consequence, you might see some modified search results when you perform web searches. Researchers say that users' all searches are redirected through http://mps.eanswers.com/search before they are provided with Yahoo! search results, so the chances are high that some search results returned to users will be modified. We cannot call them malicious, but they might take you to websites that are not associated with your entered search queries in any way. Consequently, you will not find what you are searching for on them. Also, since they might promote any website, you might one day end up on a page containing untrustworthy applications and/or malicious links opening malicious websites. We do not try to say here that all of them will necessarily take you to harmful pages, but you might surely end up on these websites if you use the search tool promoted by Browsing Guard Extension every day. As you have probably already understood, our team of experienced researchers working in the cybersecurity department have a negative opinion about it and do not recommend using it as a default search tool, but, of course, you are the one who has to make a final decision in this situation.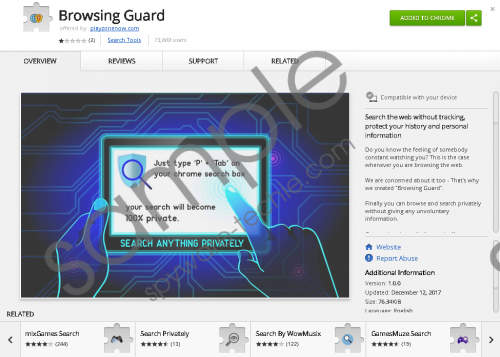 Browsing Guard Extension screenshot
Scroll down for full removal instructions
If you have discovered Browsing Guard Extension active on your computer, it means that a) you have installed this piece of software from the Chrome Web Store (https://chrome.google.com/webstore/detail/browsing-guard/olpjojaagippmapcedopiheccgnaabja) or http://www.playzonenow.com (it has already been removed from this website) or b) it has affected your Google Chrome browser without permission. According to our experienced researchers, this browser extension might be spread together with other programs in software bundles. Also, users might install it by clicking on pop-ups promoting it. It is installed on their computers even if they click on these ads accidentally. There are thousands of untrustworthy programs available on the web, so we cannot promise that new undesirable applications will not enter your system in the future if you keep your computer unprotected.
Luckily, it is not that hard to disable Browsing Guard Extension, so if you have found it undesirable, we are sure you could delete it yourself manually. You should use below-provided instructions prepared by our experienced specialists. Of course, if you do not have time for the manual removal of this undesirable browser extension, scan your system with an automated scanner, aka an antimalware tool.
Remove Browsing Guard Extension manually
Open Explorer (press Win+E).
Type %LOCALAPPDATA%\Google\Chrome\User Data\Default\Extensions in the URL bar and press Enter.
Delete the olpjojaagippmapcedopiheccgnaabja folder.
Access %UserProfile%\Local Settings\Application Data\Google\Chrome\User Data\Default\Extensions.
Remove olpjojaagippmapcedopiheccgnaabja.
Scan your system with a diagnostic tool to find out whether you have removed the potentially unwanted program fully.
In non-techie terms:
Browsing Guard Extension is not exactly what it seems to be. That is, it is not a very beneficial application. Also, it changes the default search tool on Google Chrome and might present users with untrustworthy search results, as research conducted by experienced specialists has shown. Therefore, if you have not installed this browser extension yet, our piece of advice for you would be to install another more trustworthy extension instead of it. We are sure you could easily find a similar piece of software that is fully reliable on the web.