Do you know what Browserkeeper is?
Browserkeeper is marketed as an application that will protect you from various malicious and dangerous websites. Allegedly the installed extension will provide real-time security while you browse the web. In reality, it does the opposite as it floods your browser with various commercial advertisements. Due to these activities and the dubious ways that the application is distributed our team at Spyware-Techie.com advises you to remove Browserkeeper from your operating system.
It was noticed that Browserkeeper is another product of the infamous company Smart Apps. Other dubious applications that were developed by this developer are Coupon Champ, Sharp-savings, Barnyard Deals, etc. All the applications mentioned and Browserkeeper work in a very similar way, and it should go without saying that all of them should be removed ASAP.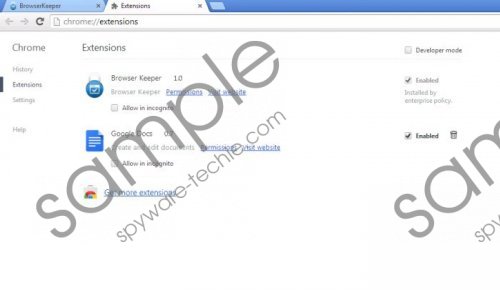 Browserkeeper screenshot
Scroll down for full removal instructions
Once Browserkeeper infiltrates your operating system it will insert extensions to your browsers. It affects Mozilla Firefox, Internet Explore and Google Chrome. These extensions are used by the application to provide you with various commercial advertisements and annoying pop-ups. This frustrating activity will continue until you remove the malignant application.
Furthermore, Browserkeeper does not only use browser extensions to present you with various ads. It edits the Windows hosts file. The hosts file can be used in order to prevent various activities (pop-ups, ads, etc.) from various web servers. But Browserkeeper makes use of the hosts file in the opposite way. It adds a certain line (54.204.28.26 dafchigfpaomilfpgggipiccacckmjic) in order to promote adverts and pop-ups from a certain adware server. You cannot simply remove the hosts file to prevent this from happening. You will need to edit the file manually to restore the proper functionality.
The analysis in our lab revealed that mostly Browserkeeper comes bundled with an application called BenchUpdater. It is a potentially unwanted application that works as adware helper. That means that by the use of BenchUpdater Browserkeeper could update itself or even worse – restore itself after an improper removal. That is possible because Browserkeeper is capable of connecting to the Internet without authorization. Thus as few files downloaded without your knowable could restore an application that you thought you have removed.
Removal of Browserkeeper should not be problematic if you follow the instructions provided by our team closely. But you have to make sure that the infection was removed entirely meaning that BenchUpdater was removed as well, and no potentially harmful leftovers remain on your operating system. It is important to remove all the files/folders/registry entries from your PC because it could slow your system down or even worse, it could act in dubious ways exposing your system to further infections.
How to remove Browserkeeper from your PC
Remove from Windows 8
Tap Windows key+Q on your keyboard.
Now type Control Panel into the search box.
Tap Enter on your keyboard.
Then select Uninstall a program.
Locate and remove Browserkeeper.
Remove from Windows 7 and Windows Vista
Tap the Windows button.
Select Control Panel.
Now select Uninstall a program.
Then find and remove Browserkeeper.
Remove from Windows XP
Click the Start button and select Control Panel.
Select Add or Remove Programs.
Remove Browserkeeper from the program list.
In non-techie terms:
Often applications like Browserkeeper could be the cause of further infections entering your operating system. Therefore, it is obvious that Browserkeeper and applications of its kind must be removed from your system. If you do not feel comfortable to perform manual removal, please follow the instructions below.