Do you know what BrowserIO is?
BrowserIO is an application that is advertised as a piece of software that should enhance your overall online experience in every way. It should provide you with faster access to the Internet, your emails, while at the same time providing virtual security. At first sight, it might seem like a tool worthy of having on your personal computer. Unfortunately, all these claims are not entirely accurate. After an in-depth analysis, malware researchers at Spyware-Techie.com have classified it as one more potentially unwanted program that should not be active on your PC. Such category has been assigned due to this application's invasive functionality and questionable distribution. In our report, we provide detailed information regarding the overall functionality of this program along with a few virtual security tips, which will help you maintain a secure operating system. Below we also include a detailed removal guide that you should use to delete BrowserIO in just a couple of easy steps.
As soon as BrowserIO enters your PC, it immediately exhibits intrusive overall functionality. Along with installing a questionable third-party browser extension, this dubious application also drops shortcuts on your Desktop to such popular sites as YouTube, Facebook, and Twitter; we highly advise you not use them since they take you to the mentioned sites via a redirection, and that could prove to be dangerous. The questionable plug-in manifests as a toolbar within your browser with a search field; also, it changes your default homepage. While some users might not think of this as a significant change, you must know that it will have an overall negative effect on the way you experience the web. That is so because you will be forced to use a suspicious third-party website as your default homepage whether you want that or not. It goes without saying that this will make browsing the Internet a much more annoying and frustrating experience. If all of that was not annoying enough, you should know that the search field on a newly set homepage is rather useless. That is so because it can present a ton of unwanted third-party sponsored results, some of which might not be related to your original online query. If you wish to restore your browser's default settings once and for all, you must know that a removal of a dubious extension will not do the trick. To surf the web the way you are used once again, you need to perform a full removal BrowserIO. Failing to do so, means that the unwanted changes will continue to bother you.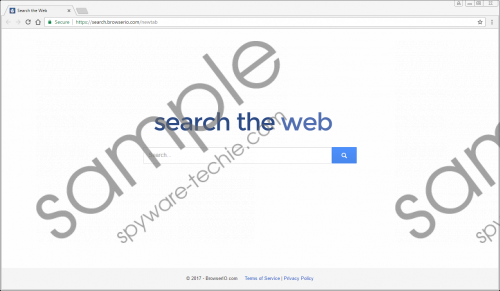 BrowserIO screenshot
Scroll down for full removal instructions
As mentioned earlier, another major reason for classifying BrowserIO as a potentially unwanted program is its questionable distribution. During our analysis, malware experts have noticed that it is impossible to obtain this program from its official web page since the direct download link does not seem to work. Thus, it is not surprising that it could be distributed via bundled installers, which is a dangerous instance because other dubious programs could come along. Therefore, we highly advise you to check your entire operating system for any other questionable applications if you already have the potentially unwanted program in question. To avoid dubious applications such as BrowserIO, you need to refrain from questionable third-party download websites because they tend to host bundled installers. Also, you should pay your utmost attention to every single installation procedure. Read everything that is presented to you during the setup process, and you might be able to cancel the installation of some undesirable application. Finally, you can have a fully secure operating system at all times by running a reliable antimalware tool because it can detect and delete any suspicious application before it has the chance to enter your PC.
Delete BrowserIO by following the detailed removal guide that we present below. Make sure to follow each step with precision since a mistake or a missed step could lead to an incomplete removal, and that is something that you do not want to face. Due to incomplete removal, traces of BrowserIO could remain active on your personal computer and might act invasively. There is a chance that just a few leftovers could be more than enough for this application to maintain the unwanted changes in place. Furthermore, just a few traces of BrowserIO could trigger its silent restoration. If you want to be sure that you have successfully terminated this potentially unwanted program, you need to double-check your operating system for anything related to it after you are done with the instructions below.
How to delete BrowserIO from your PC
Windows 10
Right-click the Windows button.
Select Control Panel.
Click Uninstall a program.
Locate and select the unwanted program.
Click the Uninstall button.
Windows 8 and 8.1
Right-click your Task Bar.
Select Control Panel.
Click Uninstall a program.
Double-click the unwanted program.
Confirm that you want to remove it.
Windows 7
Click the Windows button and select Control Panel.
Click Uninstall a program.
Select the malicious application.
Click the Uninstall option.
Windows XP
Click Start and select Control Panel.
Select the Add or remove programs option.
Right-click the unwanted program and select Remove.
In non-techie terms:
Our malware experts are aware of the fact that some users are not comfortable performing manual removal themselves. If you happen to be one of those users, do not worry because we present an alternative removal guide below. By following these instructions you will be able to remove BrowserIO in an automated manner.