Do you know what BrowserArmor is?
Do not mistake BrowserArmor for a useful program because this would be a huge mistake. Of course, you might think that this program is all about virtual security and protection, but the truth is that your virtual security becomes more vulnerable by using this program. Do you know why? The answer is quite simple: This program is not a browser security tool. The fake promises are used in the hopes of attracting more computer users. Needless to say, this is not how authentic and reliable software works, but this is because BrowserArmor is not an authentic or reliable program! Please continue reading to learn a little bit more about this, as well as to learn how to delete BrowserArmor.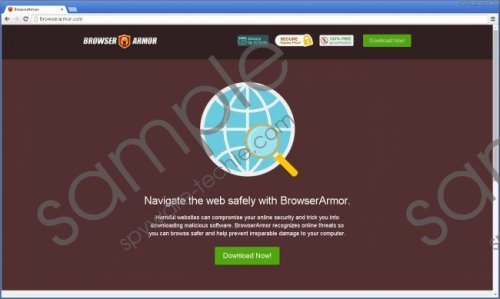 BrowserArmor screenshot
Scroll down for full removal instructions
We do not consider BrowserArmor to be an authentic program for two reasons. For one, it does not fulfill its promises. Secondly, it is just a mere copy of Browser Secure, DealCoaster, Price-Slayer, and a bunch of other programs we advise removing. We identify them as advertisement-supported programs, and this category already gives you a lot of information. As you probably understand already, this program works with advertisers, which is why it injects ads. In fact, it appears that injecting ads into the pages you visit is about the only function that works. We are sure that all of this is a surprise to you if you have downloaded this adware from browserarmor.com. At the moment, the installer on the site does not work, but it is possible that some users will have to remove BrowserArmor after being misled by it.
Browserarmor.com is not the only website that promotes BrowserArmor. There are many computer users who are researching the removal of this adware without even knowing that this website exists. The installer of BrowserArmor might be carried by an unknown downloader that was employed by the developer of this adware. Once this responsibility is delegated to third-parties, the distribution of this adware is out of the hands of its creators. In the worst case scenario, this program will be bundled up with truly malicious, clandestine, and impossible to remove infections. Hopefully, this is not something you have to deal with because detecting and deleting malware is always difficult and time-consuming.
Our research team has a lot of experience when it comes to malware and its removal. We can tell you right away that BrowserArmor is not the most demonic infection you might encounter in your lifetime, but it does require attention nonetheless. If you are lucky, and your operating system is not corrupted by malicious threats, the guide below should be enough to delete BrowserArmor from your PC for good.
Delete BrowserArmor from Windows
Delete from Windows 8 & Windows 8.1
Open the Charm bar and click the Search icon.
Enter Control Panel to access a menu and click Uninstall a program.
Right-click the program you wish to remove and select Uninstall.
Delete from Windows Vista & Windows 7
Move the cursor to the left of the Taskbar and click the Windows icon.
Open the Control Panel menu and select Uninstall a program.
Right-click the program you want to remove and select Uninstall.
Delete from Windows XP
Navigate to the Taskbar and click the Start button.
Open Control Panel and double-click Add or Remove Programs.
Go to Change or Remove Programs and Remove BrowserArmor.
In non-techie terms:
BrowserArmor is supposed to help you, but, instead, it can cause trouble. If you do not remove this program, it will silently spy on you, and, based on the information collected, introduce you to different ads. If you are 100% sure that you do not need to remove BrowserArmor-related malware and other infections, the manual removal guide should be enough to delete BrowserArmor. The instructions below will suit those who are dealing with additional malware.