Do you know what Browse Safe is?
Browse Safe is a free browser add-on that alerts you before accessing a malicious website in order to minimize the risk of downloading malware and spyware. It may seem that this browser add-on can shield the computer from multiple threats; however, the truth is that Browse Safe may redirect you to insecure websites. Browse Safe is an advertising supported program displaying third-party ads. Some of the advertisements may be associated with insecure websites, including websites promoting fake updates or deceptive contents, and we recommend that you remove this browser add-on if you want to prevent web banners, pop-ups, and other advertisements.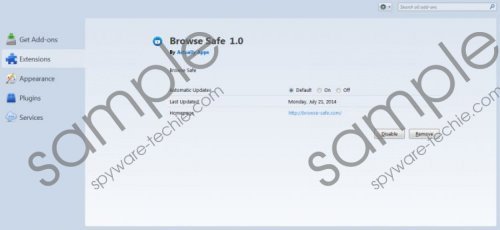 Browse Safe screenshot
Scroll down for full removal instructions
Browse Safe is accessible at browse-safe.com and is identical to SafetySearch and some other browser add-ons performing the same function. Browse Safe is capable of displaying web banners and other advertisements on basically every website you access. The offers delivered to you differ greatly because the adware program is sponsored by many third-party companies, which attempt to attract as many visitors as possible and increase the conversion rate. Browse Safe pop-ups promote shopping websites, security scanners, surveys and quizzes, online gaming websites, updates for Java and Flash players, etc. Among the advertisements displayed, you may encounter deceptive offers, which is why we recommend that you remove Browse Safe from the computer.
If you have ever dealt with adware, you probably know what adware monitors your online behavior. Browse Safe is no exception, and it is known that Browse Safe is capable of recording your clicks, browsing history, search terms, browser settings, and some other non-personally identifiable information. Some personal information, such as your name, may be recorded when using social networking websites. The information collected may be used for a variety of purposes including marketing advertising, and the enhancement of the service.
During installation, the adware program installs an adware helper, which is called BenchUpdater. This program communicates with a remote server to download updates for the program. It is advisable to remove Browse Safe from the computer as soon as possible because some unwanted files might be downloaded without your permission or knowledge.
Below you will find our step-by-step instructions, which should help you remove Browse Safe from the computer but we recommend that you rely on a powerful anti-malware program. Our team recommends using SpyHunter because this security tool can remove Browse Safe, BenchUpdater, and many other unreliable programs, including Trojan horses, ransomware infections, fake anti-virus programs, etc.
How to remove Browse Safe
Windows Vista and Windows 7
Click Start.
Select Control Panel.
Click Uninstall a program.
Remove the adware program.
Windows XP
Click Start.
Select Control Panel.
Click Add or Remove Programs.
Uninstall the unwanted program.
Windows 8
Press Win+R and type in control panel.
Click OK.
Select the Uninstall a program option and remove Browse Safe (published by Actually Apps).
In non-techie terms:
Browse Safe is a free ad-supported browser add-on which is supposed to protect you on the Internet. We recommend that you remove Browse Safe from the computer because the advertisements displayed by the adware program may take you to malicious websites. In order to have Browse Safe removed, install SpyHunter. If you do not know how to do it, use the below-given instructions.