Do you know what Browse Pax is?
Browse Pax is a browser add-on that is likely to cause you a lot of trouble if you do not remove it from the computer as soon as you find it displaying third-party pop-ups. The Browse Pax browser add-on is an old program owned by SuperWeb LLC, which is notorious for multiple identical programs. For example, Browse Pax works in the same way as ViperOut, CityWeb, Hold Page, and many other advertising-supported browser add-ons. All these programs fall to the category of adware because they display advertisements that are owned and controlled by third parties, which means that SuperWeb has no control over the ads delivered to you. Thus, we recommend that you remove the Browse Pax from the computer as soon as you can.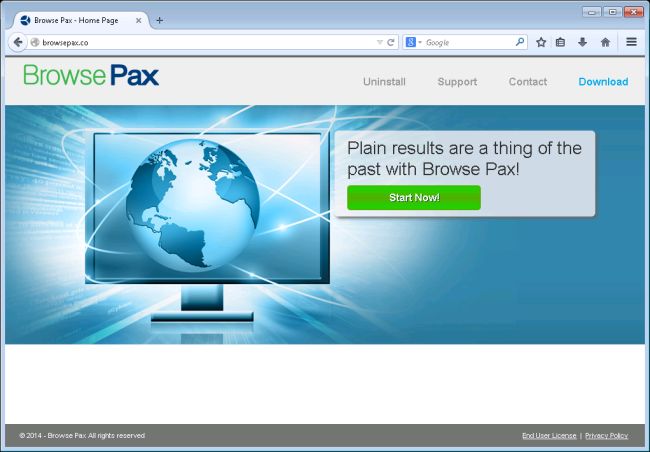 Browse Pax screenshot
Scroll down for full removal instructions
Browse Pax advertisements, including pop-ups, in-line ads, and web banners, are displayed on numerous websites, including well-known shopping websites such as Amazon.com, eBay.com, Walmart.com, etc. The content of the pop-ups is not necessarily related to the underlying website. Moreover, the websites on which the program is displayed are not responsible for the actions of Browse Pax, which means that you use Browse Pax at your own risk. By installing Browse Pax, you agree to receive third-party advertisements, but we want to warn you that you may be encounter pop-ups that are aimed at deceiving you. For example, you should ignore pop-ups inviting to update your Java or Flash player. Moreover, you should ignore advertisements promoting contests and surveys, because they may be aimed at obtaining your personal information, such as email address. If you do not like the offers provided by Browse Pax, do not wait but remove the Browse Pax browser add-on.
It is not enough to ignore Browse Pax because the program is programmed to collect certain non-personally identifiable information. Information about you is collected for several purposes, so, if you do not want to be related to the enhancement of the product or receive new targeted advertisements, you should take action right now. Browse Pax can collect your search terms, clicks, impressions, browsing history, and other anonymous information, but you can put an end to this by eliminating the program from the PC.
Our removal guide given below should help you uninstall Browse Pax from the PC, but it is worth considering your online security, too. If you want to be protected against ransomware, fake anti-virus programs, browser hijackers, and other malicious threats, do not hesitate to implement a reputable security program. Our advice is that you implement SpyHunter, which is renowned for the removal of SuperWeb programs and other undesirable programs.
How to remove Browse Pax
Windows Vista and Windows 7
Open the Start menu.
Click Control Panel.
Click Uninstall a program.
Uninstall the unwanted application.
Windows XP
Click Start.
Select Control Panel.
Click Add or Remove Programs.
Remove the Browse Pax program.
Windows 8
Move the mouse pointer to the lower-left corner of the screen.
Right-click.
Select Control Panel.
Click Uninstall a program and remove Browse Pax.
In non-techie terms:
Browse Pax is an adware program that shows third-party advertisements while you are browsing various websites. If you need to know how to install Browse Pax, use the following instructions. Our recommended tool will easily examine the system and show you information about the security status of the system in no time.