Do you know what Browse Camo is?
Browse Camo is a SuperWeb browser add-on that is promoted at browsecamo.info. However, the website does not feature the installer for the program, which means that you must have acquired Browse Camo from a different source. Similarly to other browser add-ons, Browse Camo can be bundled with various free programs, which means that every instance of software installation has to be carefully monitored in order to avoid undesirable programs.
Browse Camo is regarded as an adware program because it delivers third-party advertisements, including web banners, interstitial advertisements, in-line ads, pop-ups, and other types of advertisements. Browse Camo is not liable for the content and liability of the offers provided to you, because they do not review and endorse third parties. That means that you use the program, i.e., interact with third-party advertisements, at your own risk.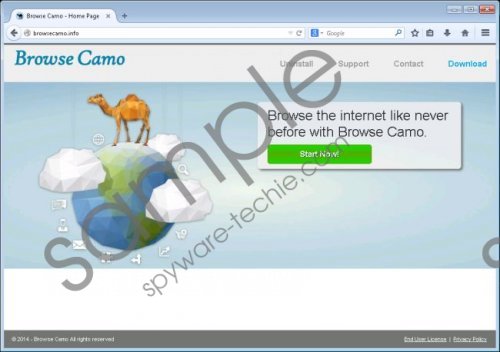 Browse Camo screenshot
Scroll down for full removal instructions
Browse Camo may show advertisements redirecting you to unsecured websites. For example, you may be offered a chance to install a system scanner or take part in a survey. Soon it may turn out that the offer displayed is a scam aimed at making you install malware or reveal your personal information in some fill-out form. It is difficult to pinpoint every deceptive advertisement that you may encounter, because there are a great many cyber scanners who may decide to use the services of Browse Camo.
Like the majority of adware programs, Browse Camo is capable of monitoring you, and this is another reason why you should not delay removing this program. The Browse Camo browser add-on collects non-personally identifiable information, which includes, but is not limited to, browser settings, search terms, clicks, browser type, and browser language. This information is gathered in order to understand your preferences and enhance the product you are using. Moreover, the data collected may be shared with third parties, who can also use the information for various purposes.
If you have already realized that Browse Camo may be the culprit of some serious issues and want to remove it from the computer, you have two options: First, you can try removing the program manually, which is time consuming. Moreover, some security program should be installed after the removal. Another option is the use of a malware and spyware removal tool. We recommend that you implement SpyHunter, because this program can remove SuperWeb programs and safeguard the system against multiple threats so that you can safely browse the Internet.
How to remove Browse Camo
Windows Vista and Windows 7
Click Start.
Select Control Panel.
Click Uninstall a program.
Remove the unwanted application.
Windows XP
Click the Start button in the lower-corner of the screen.
Right-click.
Select Control Panel.
Click Add or Remove Programs.
Windows 8
Move the mouse pointer to the lower-left corner of the screen.
Right-click.
Select the Control panel option.
Click Add or Remove Programs.
Uninstall the Browse Camo program.
In non-techie terms:
Browse Camo is an advertising-supported browser add-on which you should remove from the computer as soon as you can. Our advice is to implement our recommended security program, which you can do with the help of the instructions provided below. In case you have any questions concerning the removal of the unwanted program, feel free to contact our team.