Do you know what BROOM PC Cleaner is?
Do you want to make your computer run faster? If you do, BROOM PC Cleaner might seem like the tool for you. It is supposed to delete temporary files, clear cache, erase error reports, clean dumps, and even empty the trash. If you think to yourself "but I can empty the recycle bin myself!" you might be one of those who realize just how useless the program truly is. You can get rid of temporary files, clear cache, and do other things manually that the program is meant to do for you automatically. If the services were free, we would say "go for it!" but, of course, they are not free. Furthermore, the components of the program are suspicious, and our research team even warns that they could be malicious. All in all, there are plenty of reasons for you to delete BROOM PC Cleaner, and we discuss them all in this report.
You might have been enticed to download BROOM PC Cleaner because, at this time, it appears to be offered with a discount. If you go to broomcleaner.com, you are informed that the full price for the PUP (potentially unwanted program) is $29.99, but, with a discount, Windows 7/8/10 users can purchase it for $19.99. Whether that buys you a lifetime license, an annual license, or a monthly license is unknown, and that is the first reason NOT to spend any money on BROOM PC Cleaner. In fact, we do not advise installing this suspicious program at all. Even though it might remind of CCleaner or another well-known system optimizer, it cannot live up to your expectations. The services this PUP can provide you with are not worth your money, and even if you do not mind wasting 20 bucks, it is unlikely to make your computer run any faster or smoother than it already does.
If you download BROOM PC Cleaner from its official website, you should not face any additional threats, but if you use a third-party downloader, this PUP could come bundled with other unwanted programs and malware. So, if this is how the suspicious program got in, we strongly suggest inspecting your PC using a malware scanner. Do not skip this step. Unfortunately, regardless of how BROOM PC Cleaner enters your system, a file named "dwmk.exe" should be downloaded. Our research team warns that this file could be used in a malicious manner. At the time of research, a point of execution in the Registry (HKCU\Software\Microsoft\Windows\CurrentVersion\Run | dwm.exe) could read links.txt in the %ALLUSERSPROFILE% directory (created by the PUP) to find a link and download the dwmk.exe file from uploadbase.in. Considering that virtually any file could be downloaded, we have to consider the possibility of facing a Trojan downloader, and we are sure that this is not what you bargained for.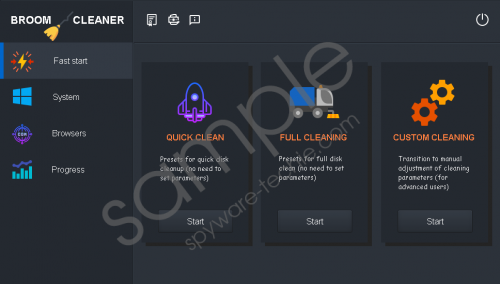 BROOM PC Cleaner screenshot
Scroll down for full removal instructions
To conclude things, BROOM PC Cleaner does not offer beneficial services, its pricing is mysterious, the silent installer drops a suspicious file that can download other files, and the system is unlikely to be sped up. These are the main reasons to remove BROOM PC Cleaner from your Windows operating system. If you already have a plan on how to eliminate this PUP, we suggest that you spare a few moments to scan your system because you want to check if there are any other threats. If there are, we advise employing anti-malware software that could detect and eliminate all malicious and unreliable components at once. We also suggest using this software to enhance your security overall. If you are not interested in investing in your virtual security at this point, follow the manual removal guide below. Note that it is NOT enough to uninstall the PUP.
Delete BROOM PC Cleaner
Click the Windows/Start menu logo.
Open Control Panel and then navigate to Programs.
Click Uninstall a program and then Uninstall the PUP.
Tap Win+R keys to access Run.
Enter regedit.exe and click OK to access Registry Editor.
Go to HKCU\Software\Microsoft\Windows\CurrentVersion\Run.
Right-click the value named dwm.exe and select Modify.
Copy the location of the malicious file.
Tap Win+E keys to access Windows Explorer.
Type the copied location into the bar at the top and tap Enter.
Delete the malicious dwm.exe file.
Type %ALLUSERSPROFILE% or %ALLUSERSPROFILE%\Application Data into the bar at the top.
Delete the file named links.txt.
Go back to the Registry Editor and Delete the value named regedit.exe.
Empty Recycle Bin to eliminate the components.
Install a trusted malware scanner to run a full system scan.
In non-techie terms:
You might have the best intentions when installing BROOM PC Cleaner, but this program cannot assist you the way you think. Sure, it can delete temporary files and clear the cache, but these are the things that you can do on your own, without wasting any money. In general, your PC is unlikely to run better or faster if you download and pay for this PUP's services. That is not all. It was also found that the program contains a file that is capable of downloading other files from the internet, and that is very alarming because we cannot guarantee that only harmless files will be downloaded. To remove BROOM PC Cleaner, you can either follow the guide above or you can install anti-malware software. Go with the latter option if you want to have all threats eliminated automatically and if you need help protecting your operating system.