Do you know what BringMeApps toolbar is?
BringMeApps toolbar may seem like a beneficial application at first; however, most computer users agree that this browser plugin is quite suspicious regarding its relation to Ask Web Search. The extension is available at bringmeapps.com and it is available for the users of Google Chrome, Mozilla Firefox and Internet Explorer web browsers. If you are careful, you will notice that the program may offer you to replace the existing home page, new tab and search engine options to Ask.com. In fact, this is the main reason why computer users choose to delete BringMeApps toolbar from their operating systems. It is unfortunate but people often act carelessly and abruptly, which may lead to the accidental installation of undesirable search tools. Even though we do not agree that the toolbar is a browser hijacker, we can help you to remove it.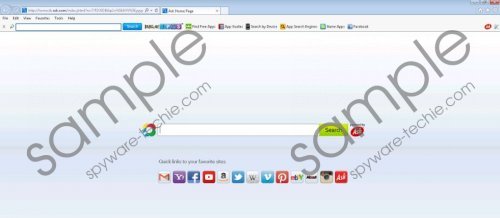 BringMeApps toolbar screenshot
Scroll down for full removal instructions
Mindspark Interactive Network is a well known software developer who has created BringMeApps toolbar, ButterflyField Toolbar, Gaming Wonderland Toolbar, and a number of other browser plugins. Even though most of them present different tools and services, all of them represent the Ask search box leading to search.tb.ask.com. All of them offer to change the home page of your browsers to the suspicious home.tb.ask.com as well. This search engine is not exactly unreliable. Note that even though it does present sponsored search results, they are identified in a clear manner. Needless to say, this does not mean that you should click on them if anti-malware software is not installed to protect the operating system and to delete attacking infections. The toolbar itself should be handled with care as well because it does promote links to third party sources, and not all of them are trustworthy.
Unfortunately, computer users often install BringMeApps toolbar and the associated search tools without weighing their options and necessities first. Therefore, it is not surprising that some of them are not interested in the services presented by the toolbar or the Ask search tools. If you want to remove BringMeApps toolbar as well – follow the manual removal guides down below. Afterwards install authentic and reliable security tools to ensure that the necessary virtual protection is activated.
Delete BringMeApps toolbar and Ask tools
Delete from Windows XP:
Navigate to the left of the Task Bar and click Start.
Select Control Panel and then Add or Remove Programs.
Click the undesirable program and select Remove.
Delete from Windows Vista & Windows 7:
Click the Start icon on the left of the Task Bar and open the Control Panel.
Select Uninstall a program and right-click the application you wish to remove.
Click the Uninstall button to get rid of the program.
Delete from Windows 8:
Right-click on the Metro UI menu and select All apps (Apps menu).
Open the Control Panel and then click Uninstall a program.
Find the application you wish to remove, right-click it and select Uninstall.
Delete from Google Chrome:
Open the browser, simultaneously tap Alt+F and select Settings.
Navigate to Appearance mark Show Home button and click Change.
Chance/remove the undesirable search provider and click OK.
Go to Search and click the Manage search engines button.
Click X on undesirable search tool to remove it and select Done.
Simultaneously tap Alt+F again, move to Tools and click Extensions.
Find the undesirable plugin, click the trash icon and select Remove.
Delete from Internet Explorer:
Open the browser and simultaneously tap Alt+T to open the Tools menu.
Select Manage Add-ons and then move to Toolbars and Extensions.
Now Disable the undesirable plugin to deactivate it.
Select Search Providers and choose a new default search provider.
Remove Ask search and click Close.
Simultaneously tap Alt+T again and select Internet Options.
Click the General tab, remove/change the Home Page and click OK.
Delete from Mozilla Firefox:
Open Mozilla Firefox and move to the Firefox search box on the right.
Click the search provider icon and then select Manage Search Engines.
Remove the undesirable search provider and click OK.
Simultaneously tap keys Alt+T (Tools menu) and click Options.
Click the General tab, remove/change the Home Page and click OK.
Simultaneously tap Ctrl+Shift+A to access the Add-ons Manager menu.
Go to Extensions, find the undesirable plugin and click the Remove button.
In non-techie terms:
BringMeApps toolbar is a browser extension which comes bundled with Ask search tools. If you do not want to install them onto your browsers, make sure you decline them during (or prior if you use Chrome) the installation. If you have already installed these programs, you can delete them using the manual removal instructions presented above.