Do you know what BrickEnforcer is?
Our researchers at Spyware-techie.com have categorized BrickEnforcer as an adware helper that is designed to support third-party adware programs. BrickEnforcer is an application that you ought to remove, because its primary and only function is to update adware applications that have been installed with InstallRex installers. It goes without saying that adware applications are dangerous because they could infect your computer with malware, which can severely compromise your system's security. This article features in depth information about BrickEnforcer and a guide to remove it manually.
As a rule, BrickEnforcer is exclusively distributed via software bundles that can be found on almost all major freeware distribution sites such as Cnet.com, Softonic.com Soft32.com, and so on. It must be noted that software bundling is a rather deceitful marketing tactic used by various third parties to distribute their useless software. So it should not be surprising that some useful applications may contain adware and adware helpers such as BrickEnforcer. Our researchers have determined that BrickEnforcer is used to update adware mostly distributed with the InstallRex installers. It must also be said that users might not be granted an opportunity to opt out the installation of BrickEnforcer, because it is known to install without the user's permission.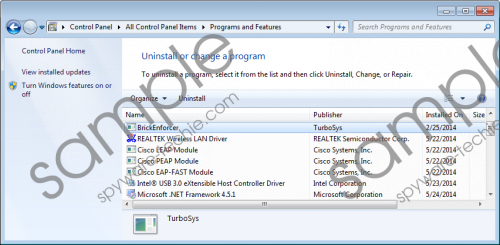 BrickEnforcer screenshot
Scroll down for full removal instructions
As mentioned, the primary function of BrickEnforcer is to help install and update various adware applications such as Unideals, UniSales, YoutubeAdBlocker, and so on, which all come bundled with the aforementioned InstallRex installers. You should remove BrickEnforcer, because the aforementioned adware applications, or any adware applications for that matter, might infect your system with dangerous malware including, but not limited to Trojans, rogue antivirus scanners, and so on. We warn users not to click any pop-ups, banners, coupons, in-text ads, and other forms of advertisements in order to prevent an infection. However, it would be best to remove BrickEnforcer and by extension prevent adware applications from updating . You can delete it via the Control Panel, but it must be said that BrickEnforcer is a name shifter. It may have such names as EnforcerAide, GrubTartan, DemiUpgrader, StatEngine, FalconCentre, and so on.
In conclusion, it must be emphasized that you should remove BrickEnforcer immediately, because it offers no added value to the user. On the contrary, it only serves to jeopardize system security by installing, installing and updating adware applications that have been installed using InstallRex installers that could infect your system with malware if you click any of their ads. In addition, we urge you to be more attentive when installing freeware applications, because they may be bundled with adware and adware helpers such as BrickEnforcer. However, if you already have BrickEnforcer installed on your computer please follow our guide to manually remove it.
How to remove BrickEnforcer from Windows
Windows 8 and Windows 8.1
Open the Start Screen.
Type Uninstall in the search box and then go to Settings.
In the search results, click Uninstall a program.
Find BrickEnforcer.
Click Uninstall.
Windows 7 and Windows Vista
Click Start.
Select Control Panel.
Click Uninstall a program.
Find BrickEnforcer.
Click Uninstall.
Windows XP
Open the Start menu.
Click Control Panel.
Select Add or Remove Programs.
Find BrickEnforcer.
Click Uninstall.
In non-techie terms:
BrickEnforcer is an adware helper designed specifically to prevent adware from being fully removed from your system. It is known to reinstall numerous adware applications, which come bundled with the InstallRex installer. This installer is most commonly found on freeware distribution websites. The adware applications might infect you system with dangerous malware that may corrupt your system's files. Therefore, we recommend users to remove BrickEnforcer manually or using an antimalware scanner such as SpyHunter.