Do you know what Breaking News Plus is?
Breaking News Plus is advertised as an extension that can help users get the latest news from their new tab page. To be more precise, the application's description says that the extension's users receive quick links to news websites. In addition, it says you can get a personalized weather forecast too. While the offered content might be tempting, we recommend learning more about this plugin before you make your final decision. You can find out more if you read our full article. Also, at the end of the text is our removal guide that shows how to delete Breaking News Plus from Google Chrome, which is the only browser that the application seems to be compatible with at the moment of writing. If you need any help or have some questions about this extension, do not hesitate to use our comments section available below.
First, you should know that Breaking News Plus is considered to be a potentially unwanted program. It does not mean that the extension is harmful. Usually, such applications are described as software that users install willingly but later decide to erase. For example, a tool could appear to have annoying qualities that a user did not think it would have.
Furthermore, Breaking News Plus does have a homepage (hp.hbreakingnewsplus.com), and it can be downloaded from the Chrome Web Store page. However, potentially unwanted programs can be spread through bundled software installers on questionable file-sharing sites, suspicious pop-up advertisements, and redirects. Therefore, it is possible that the extension in question could also be distributed through sources alike in addition to being spread via the Chrome Web Store page and its official site.
The application does provide links to news websites and shows personalized weather forecasts. Such content should appear when you create a new tab. It is important to understand that if you bookmark the provided links, you should be able to reach them even if you no longer have the extension in question. As for the weather forecast, you could bookmark a website that would provide it instead. Moreover, users should know that if they place Breaking News Plus on their Google Chrome, the plugin might offer a search engine that redirects to modified Yahoo search results, which could be injected with various third-party advertisements. It is vital to remember that it is best not to interact with ads if you are not certain that it is safe to do it.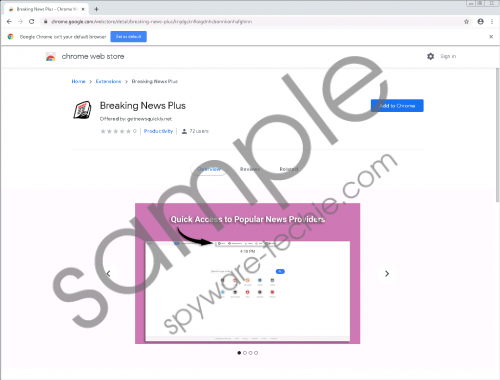 Breaking News Plus screenshot
Scroll down for full removal instructions
Lastly, some users might not like the idea of Breaking News Plus being able to read their browsing history. Our researchers say that the potentially unwanted program might ask for permission to do so upon its installation. If this disappoints you and you do not want the application to view your browsing history anymore, you could remove Breaking News Plus. The removal guide placed below shows how to delete the plugin from your Google Chrome. You could also get a reputable antimalware tool and let it erase the potentially unwanted program for you.
Erase Breaking News Plus
1. Launch Google Chrome.
2. Insert chrome://extensions into the address bar and press Enter.
3. Search for Breaking News Plus and click Remove.
4. If needed, confirm you wish to Remove it.
5. Close your browser.
In non-techie terms:
Breaking News Plus is a potentially unwanted program. In other words, the application might be considered annoying, but it is not malicious. Nevertheless, we recommend thinking carefully about whether you wish to add it if you do not want to waste your time on tools that could turn out to be disappointing. Research shows that the extension might promote a search engine that could show modified search results. Consequently, there is a possibility that the displayed search results could be injected with third-party ads, which might come from unknown sources. Thus, such content could be both annoying and questionable. If you do not want the potentially unwanted program's search engine on your browser, you could erase Breaking News Plus while following the removal guide available above or with a reputable antimalware tool of your choice.