Do you know what Boxedsearch.com Redirect is?
If Boxedsearch.com Redirect takes over your browser, you need to figure out a way to remove it as soon as possible. At first sight, it appears as a normal search tool, but, in reality, it is an unreliable browser hijacker whose search services are untrustworthy. At the moment, no search results are produced at all by this threat, but, when it works, it can showcase advertisements and promotional content. First and foremost, this can create issues for those trying to find useful and reliable search results. Second, this can be dangerous in case the links shown are malicious or misleading. Due to these reasons, our research team recommends deleting Boxedsearch.com Redirect even if it does not show search results at all.
Was Boxedsearch.com Redirect introduced to you after downloading an unfamiliar Chrome, Firefox, or Internet Explorer extension or an application? If that is the situation, it is most likely that you will be able to get rid of the hijacker only if you remove the extension/application. Even if it looks as if the hijacker entered your browser on its own, the chances are that other pieces of software stand behind it. Also, considering that an official installer does not exist, the hijacker is likely to be spread via software bundles that might be full of malware. Whichever way you look at it, scanning your operating system with a legitimate malware scanner is a good idea. Hopefully, you do not find many other threats that require removal.
The interface of Boxedsearch.com is pretty generic. In the center of the page, you can find a search field. At the bottom, you can find links to About, Terms and Conditions, Privacy Policy, and Contact pages. The "About" section displays a message that is identical to that represented along with Bonzersearch.com, which is also a browser hijacker that we recommend removing. This hijacker does not work either, and instead of showing search results, it simply promotes a third-party service. It is not known if these threats were created by the same company, but the similarities are obvious. They both follow the same Privacy Policy as well, and it informs that third-party companies can advertise via Boxedsearch.com Redirect, as well as record information about users. Without a doubt, most users will choose to delete a search tool that does not offer reliable search services and, on top of that, can record information about them.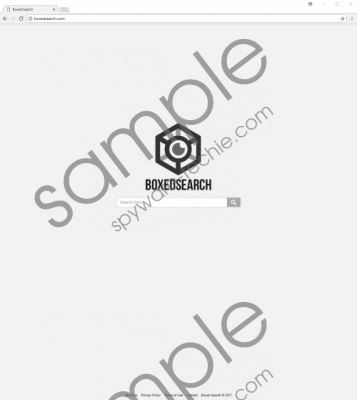 Boxedsearch.com Redirect screenshot
Scroll down for full removal instructions
There is no reason to postpone the removal of Boxedsearch.com Redirect. Sure, you might ignore our advice if the hijacker is linked to an extension or an application that you believe to be useful and reliable. However, do you really think that an extension/application linked to a redirector/hijacker can be trusted? Before you do anything else, we recommend employing a trusted malware scanner to investigate the software active on your PC. This might determine how you go about the removal of the hijacker. If you follow the instructions below, you will change the default search provider and the homepage on the affected browser, but the removal process might change depending on the malware active on your operating system. If you fail to get rid of all threats manually, do not hesitate to install anti-malware software.
Delete Boxedsearch.com Redirect
Internet Explorer
Launch IE and tap Alt+T.
Select Internet options.
Click the General tab.
Overwrite the URL under Home Page.
Click OK and then tap Alt+T again.
Select Manage Add-ons.
Open the Search Providers menu.
Remove the hijacker and click Close.
Google Chrome
Launch Chrome and tap Alt+F.
Select Settings.
Navigate to Search Providers.
Remove from list the hijacker.
Navigate to the On Startup menu.
Remove the hijacker.
Mozilla Firefox
Launch Firefox and tap Alt+T.
Select Options.
Navigate to the General menu.
Overwrite the URL under Home Page.
Navigate to the Search menu.
Remove the hijacker.
In non-techie terms:
Do you need to remove Boxedsearch.com Redirect? The experts in our research team agree that you do. This browser hijacker is not reliable because it does not work, and if it did, it would showcase sponsored links. On top of that, the infection and the companies using it can record information about users. These are the main reasons to eliminate this hijacker from your operating system. It is possible that you can delete Boxedsearch.com Redirect by following the instructions above, but if other unwanted pieces of software are linked to this hijacker, you might have to erase them first. If you fail, remember that an automated anti-malware tool can help you erase all threats from your operating system.