Do you know what Box Green is?
Box Green is another SuperWeb LLC developed browser tool that displays pop-up ads and other forms of advertising during your Internet browsing sessions. Remove Box Green because the online shopping aid it promises is likely to come in a form of your browser flashing with various deals you never thought of considering. Box Green is categorized as an advertisement-supported application that does not have any functions you would find beneficial, therefore avoid this tool and choose more trusty and useful equivalents.
Adware, like Box Green, is usually avoided and deleted for many reasons. One of them is the entire amount of commercial content it might bring out on your browser window. It is additional information of questionable quality which can be too distracting and bothersome during your everyday web surfing. Another excuse to remove Box Green is that it always hides its activity, even though it might be active all the time your computer is running. Also, adware applications choose not to inform users about the processes they activate which can range for tracking all the information related to your Internet browsing to downloading additional content on your PC. You might never know when it uses additional tools to go past your security system to steal sensitive information or damage your system.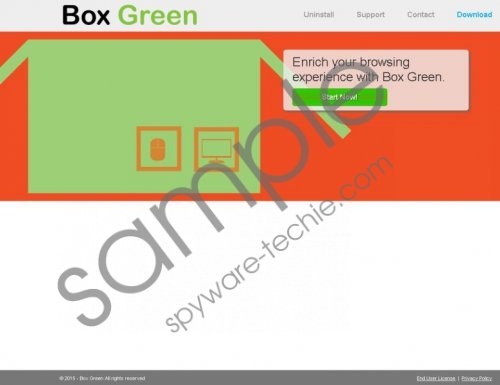 Box Green screenshot
Scroll down for full removal instructions
Like Search Vortex, Clock Hand, Gooternet, and dozens other SuperWeb applications, Box Green might enter your computer through freeware programs. You might install this browser tool accidentally while installing some other free application found on the Internet. In order to avoid getting any adware or other malicious software on your computer, never skip through the installation process. Generally, it is always recommended to install trustworthy licensed software from reliable developers; therefore, remove Box Green and any other suspicious software you might have installed it with to make sure it does not play active role in some malevolent activity.
Box Green works as conduit to transfer advertising material on your browser; however, it never takes the responsibility for the content it might link you to. It is a revealing detail one should be always aware of as it suggests that you should expect to find anything when clicking on promoted links. It might be some legitimate product, but it might also be potentially dangerous content asking to get access to your machine. Deleting Box Green would be a self-evident precaution against being exposed repeatedly to potential dangers.
You can terminate Box Green by following the guidelines we provided below. Most SuperWeb applications can be reached and removed via Control Panel. Sometimes, cleaning up the web cache and temporary internet files will guarantee there is no sign of Box Green left on your system. After you have done this, make sure your computer has reliable malware removal tool that can protect your computer from remaining potential threats. After you have completed the clean up, make sure all security tools on your machine are up-to-date and active.
How to Delete Box Green
Windows XP
Open the Start menu.
Choose Control Panel, and then open Add or Remove Programs.
Choose the program in the list.
Click Remove to start the removal.
Windows 7 and Vista
Open the Start menu.
Open Control Panel.
Select Programs.
Click Uninstall a program.
Select the program and click Uninstall/Change above to initiate the removal.
Windows 8 and 8.1
Hover the mouse to the right side of the screen to open the Charm bar.
Choose Settings.
Select Control Panel.
Choose Programs and Features.
Select the program.
Click Uninstall/Change to remove.
In non-techie terms:
Box Green is a useless advertisement-supported application which will clutter your browser with various ads. It might also lead you to potentially dangerous content. Guarantee the security of your computer by following our instructions to terminate the application.