Do you know what Bountysearch is?
Bountysearch is a totally useless Google Chrome browser extension that may put your system security at risk. This application has been labeled as a potentially unwanted program (PUP) by our researchers after testing it in our internal lab. You may believe that it could be an easy way to make money online by using this PUP; however, there is very little you can officially know about it, which leaves more questions than there are answers. Our researchers have found that this extension may redirect you to questionable websites and offer you to download malicious browser extensions, show you potentially unsafe third-party ads, and also enter your system along with more serious threats. We believe that in order to keep your system safe, you should remove Bountysearch from your computer. But to help you make up your mind about this PUP, we will share with you what we have learnt about this extension.
The first sign that you should not install or keep this extension is that its promotional webpage, bounty-searches.bid, does not work; you simply end up on an error page if you try to visit it. Yet, it is quite strange that more than 32,000 users have thought this tool to be worth installing as the statistics show on the only official page you may be able to install it, the Chrome web store (chrome.google.com/webstore/detail/bountysearch/babmifppchjidjbndjalckdoekbeeonn). The first thing to know about this store is that it is not a guarantee for reliable software. In fact, there could be dozens of potentially harmful extension in this store that have not been yet reported as such. This PUP could be one of those and it may be blocked in the future once it gets reviewed by Google. Another suspicious thing about this web store page is that the developers have not even uploaded a screenshot. Well, if you only want reliable software on your computer, these already could be enough for you to delete Bountysearch.
Our researchers have also found this PUP in bundled versions, which is definitely the worst case scenario as it may sneak onto your computer along with malware infections while you think you are installing a new free tool. You always need to be cautious whenever you are dealing with a bundle. In fact, most of the time it is possible to figure out what a software package actually contains. Of course, there are bundles that do not necessarily reveal their full content or the installer is designed in a way that inexperienced users would not surely find the options where it is possible to deselect unwanted parts of the package. This is how a lot of users actually infect their machine without knowing. You can easily drop such a bundle if you happen to click on corrupt third-party content, such as a banner or pop-up advertisement, a fake notification, and a fake button. This can happen if there is an adware application hiding on your computer or when you land on suspicious websites (freeware, torrent, online gambling, and gaming). This is why you should only download updates and programs only using official and reputable websites. Right now you could be facing multiple virtual security threats and the only way for you out of this situation is to delete Bountysearch and run a malware scanner on your system to find all other questionable programs.
This worthless browser extension sounds like a good way to "earn bounties" and, in fact, there is no other detail or description regarding this tool. As a matter of fact, you cannot even download it properly if your PC is safeguarded by a decent anti-malware program because it blocks it right away and detects adware presence. This clearly means that when you are not protected, this PUP could show you questionable third-party ads, spy on you by collecting information about your online activities, and may also redirect you to undesirable websites. In fact, we have found that this PUP works similarly to System Health Checker, meaning that it redirects to random websites and displays a notification and asks you to install a malicious Chrome extension. All in all, it seems that nothing is right around this PUP. Therefore, we advise you to remove Bountysearch from your browser to be safe in your virtual world.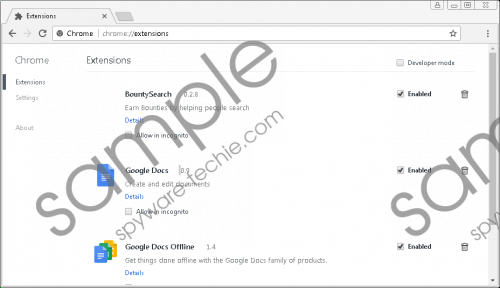 Bountysearch screenshot
Scroll down for full removal instructions
The only good thing we have noticed about this PUP is that it only affects your Google Chrome browser and thus it is very easy and quick to eliminate it. Please follow our guide below if you do not know how to remove a browser extension. Also, remember that this may not be the only and the most dangerous threat that is hiding on your PC. You cannot stop at this stage and think that you are all safe now. We suggest that you make sure that no infection of any kind remains on board. If you cannot accomplish this single-handedly, we recommend that you use a professional malware removal application, such as SpyHunter.
Remove Bountysearch from your browser
Google Chrome
Tap Alt+F and choose Settings.
Go to Extensions in the left panel.
Find this extension in the list and click on the trash can icon.
In the confirmation window, click Remove.
In non-techie terms:
Bountysearch is a useless and potentially harmful browser extension that only works in Google Chrome. Although its name may suggest that you can make money online with this tool, our researchers say that it is more likely that you will end up on unreliable websites and install malicious programs while this potentially unwanted program is active in the background. As a matter of fact, you cannot even install this tool from its official websites since that does not work, but you may also have issues if you try to install it via the Chrome web store if your PC is protected by a security tool. All in all, we believe that you should remove Bountysearch from your computer if you want to feel safe. If you do not think you can protect your system yourself against future potential or malicious attacks, we suggest that you employ an authentic malware remover.