Do you know what Boost PC Pro is?
Boost PC Pro is a system optimization tool that might get installed on your computer accidentally. Normally, we do not have that many complaints about such tools because users can easily uninstall them from their computers, but sometimes they might take some users by surprise, and it could be quite annoying. Therefore, if you find it that you have no use of this application; you can remove Boost PC Pro without any further ado. You should also consider scanning your computer with a security tool of your choice because there is a good chance that there are more undesirable products on-board.
The official website for this program can be accessed via quickboostutils.com. There it says that with this application, you can "clean, optimize and speed up your PC now." It says that Boost PC Pro is "designed and tested with utmost care to keep your PCs running smooth, fast and error free." However, at the same time, it says that you need to purchase the activation key to fix the errors this program detects. That does make sense because there aren't that many freeware applications that would improve your system's performance for no fee in the first place. But the question is whether the subscription is really worth the trouble. Of course, if you downloaded this program from its official webpage, it is up to you to decide whether you want to keep it.
However, there might definitely be other aspects to this story. After all, the official homepage is not the only distribution source that can be used by Boost PC Pro. It might also come through various commercial ads that you encounter on a number of websites. Although advertising is a very common thing on the Internet, sometimes we tend to encounter websites that have a lot of pop-up ads. When that happens, we have to careful to avoid potential threats that might attempt to reach us through those ads. There are also cases when downloads are initiated automatically the moment you open a pop-up. Therefore, sometimes it might out of your control, but you should still be able to stop the download before the program reaches you.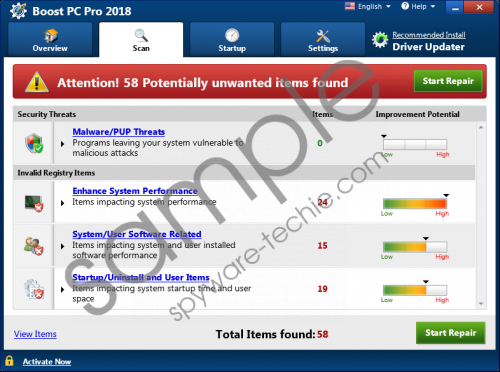 Boost PC Pro screenshot
Scroll down for full removal instructions
The bottom line is that you have a program you do not need on your computer; you should seriously consider removing it. It doesn't matter if the program is not a direct computer security threat. The point is that you did not need it, and it still entered your system, so you should not tolerate it.
As far as the essence of Boost PC Pro is concerned, the program claims it can speed up your PC by cleaning your registry, and it also offers a malware/potentially unwanted software scanner (which is interesting, considering the program can be considered potentially unwanted itself). On the other hand, during our tests, we found that this program does not seem to display fake results, so it is very likely that it will not try to convince you that there is something terribly wrong with your system, and you simply must purchase the full version of Boost PC Pro.
Our research team says that this program is similar to PC Cleanup 2018, AutoClean Pro 2018, Win PC Repair 2018, and others. What's more, the application may come with additional software. For instance, in our case, Boost PC Pro offered to install Driver Updater during the setup. If you skip straight to the end of the installation, you may miss the chance to avoid adding additional software to your computer. As a result, it is possible to end up with a number of programs you neither want nor need.
Please avoid that by being careful about what websites you visit and which programs you download. Also, remain attentive when you install programs downloaded from file-sharing websites. Most of the time, it is possible to avoid unwanted installation if you are careful about what you choose to access online.
As for Boost PC Pro, you can remove it via Control Panel. It is also possible to uninstall the application automatically with a security tool. This option is recommended when you think that there might be more unwanted programs installed, and you want to terminate them all at once.
How to Delete Boost PC Pro
Windows 10 & Windows 8.1
Press Win+R and enter Control Panel. Press OK.
Open Uninstall a program and delete Boost PC Pro.
Windows Vista & Windows 7
Click the Start menu button and go to Control Panel.
Open Uninstall a program and remove Boost PC Pro.
Windows XP
Open the Start menu and choose Control Panel.
Select Add or remove programs and uninstall Boost PC Pro.
In non-techie terms:
Boost PC Pro is a program that is supposed to improve your computer's performance. It is not a dangerous infection, but sometimes it might enter your system accidentally. If that happens, computer security experts recommend removing Boost PC Pro from the affected computer as soon as possible. It would also be a good idea to run a full system scan because there might be more unwanted programs running on the system.