Do you know what Boop Ransomware is?
If you value your personal files, you want to create copies of them. Copies are important because if Boop Ransomware or another similar infection manages to invade your operating system, you want to have a backup plan. If you are currently dealing with this malware, and you have copies, your main concern should be how you are going to remove Boop Ransomware. Afterward, you can use the copies to replace the files that this malware is capable of corrupting. Although it does not delete them, it changes their data to ensure that you cannot read them, and that might be just as bad. Hopefully, you can get rid of the threat and replace your files, but that is not all. You also need to rethink Windows security because, obviously, something is not right.
You might have launched Boop Ransomware yourself. Did you know that? The launcher of this malware can hide within software bundles, spam emails, and misleading advertisements. A cleverly worded message or the name of an attractive program could be used to trick you into executing the first file that, eventually, drops the payload of the actual ransomware. This is not a unique way to enter Windows operating systems. In fact, the clones of Boop Ransomware (e.g., Geno Ransomware, Usam Ransomware, or Odgo Ransomware, all of which are from the STOP Ransomware family) are likely to attack in the same way. It looks like the same attackers stand behind these threats (at least the mentioned clones), and if that is the case, they must be experienced enough to know how to successfully deploy ransomware. Obviously, if security tools are set in place, this malware should not infiltrate successfully.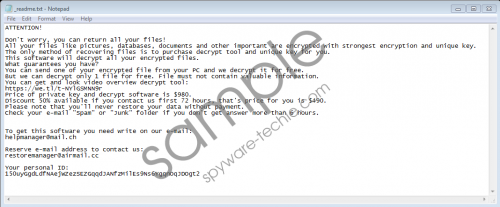 Boop Ransomware screenshot
Scroll down for full removal instructions
If Boop Ransomware is successful at invading your operating system, it quickly encrypts files (the ".boop" extension reveals which ones were encrypted) and also drops a file called "_readme.txt." The message within the file is meant to convince you to pay a ransom of $490. If money is not a problem, you might rush into following the instructions introduced via the message. The first step is sending an email to the attackers, and you are incentivized to do that with an offer of having one file decrypted for free. Whatever you do, think before emailing helpmanager@mail.ch or restoremanager@airmail.cc. If you contact the attackers using a regular email account, you can expect it to be flooded with spam and misleading messages in the future. And what about the ransom? We don't believe that you would be given a decryptor in the end, and that is why we don't recommend contacting the attackers at all. We suggest that you focus on deleting Boop Ransomware instead.
Is it easy to delete Boop Ransomware manually? Only you can decide, as that depends on your previous experience, knowledge of malware, and skills. If you can remove the threat yourself using our guide, we hope that you can also replace the corrupted files with backup copies afterward. If that is not an option, look into using the free STOP Decryptor that might help in some cases. If you are unable to remove Boop Ransomware manually, why not give anti-malware software a try? After all, your system lacks protection, and so by installing this software, you will be solving two problems at once. Malware will be deleted, and your operating system will be safeguarded. Of course, even if your system is protected, you should continue creating backup copies of all important files just in case.
Remove Boop Ransomware
Open File Explorer, which you can do by tapping Windows and E keys at the same time.
Type %HOMEDRIVE% into the field at the top and tap Enter to access the directory.
Delete the folder named SystemID (with PersonalID.txt inside) and the file named _readme.txt.
Type %LOCALAPPDATA% into the field at the top and tap Enter to access the directory.
Delete the folder with a malicious .exe file inside. The name of this folder is random, and it looks something like this: 0115174b-bd55-4caf-a89a-d8ff8132151f.
Close File Explorer and then Empty Recycle Bin to complete the removal.
Employ a legitimate malware scanner to check your system for leftovers or other threats.
In non-techie terms:
Although Boop Ransomware has a fun name, it is anything but fun. This malware encrypts files and then blatantly demands money in return for a decryption tool that, unfortunately, you are unlikely to receive anyway. The attackers want you to believe that as soon as the payment is made, the tool will be sent, but how can you trust them? It is all just a scam to get your money. Hopefully, you do not need to lose your files because you have backups for replacements. Or you can use a free decryptor successfully. In either case, you must delete Boop Ransomware first. Since doing that manually is not that easy, and it also does not solve the problem of Windows security, we recommend going with anti-malware software. After all, only a reliable security tool can ensure protection in the future.