Do you know what Bookmarks Button is?
According to our malware analysts, Bookmarks Button is an unreliable browser extension for Google Chrome that our cyber security experts have classified as a potentially unwanted program because its developers have employed rather deceptive distribution methods to get it onto your PC. Furthermore, it offers a function that Chrome has by default. Therefore, it is utterly useless and you ought to remove it. Additionally, this program has no legal documents such as an EULA or Privacy Policy, and the company that created it is unknown. All things considered, this application is undesirable due to its questionable origins and distribution tactics. To find out more about it, please read this whole article.
Our cyber security experts have discovered that Bookmarks Button has a dedicated promotional website at Bookmarksbtn.com. However, the download button found on it no longer works. Researchers have also found on the Chrome Web Store that has recently removed it from its library probably due to the fact that it is unreliable in nature. As a result, this program should not be so prominent. Nevertheless, researchers have found that its developers have also arranged this program to be distributed using software bundles. Researchers say that there are websites that host freeware downloads that have agreed to feature Bookmarks Button in the bundles. They say that the bundled installers may have been set up to inject this questionable extension while installing the primary software. This extension may have been set to install by default. Nevertheless, the installation wizard must have advanced or custom settings that should allow you to deselect Bookmarks Button.
However, if you get this extension accidentally, then you may be lead to believe that it is not that bad. Its website states that it will allow you to access your bookmarks with a click of a button quickly. When this extension is installed, it adds a rectangle icon with a star in the middle that loads the bookmarks list. However, our security specialists say that this feature is nothing but a gimmick to convince people that are not that tech savvy that this application offers a valuable function. Also, its website does not have an EULA and privacy policy which is mandatory for all applications. On top of that, the name of the company that developed in unknown which only serves to show that Bookmarks Button comes from an unreliable background.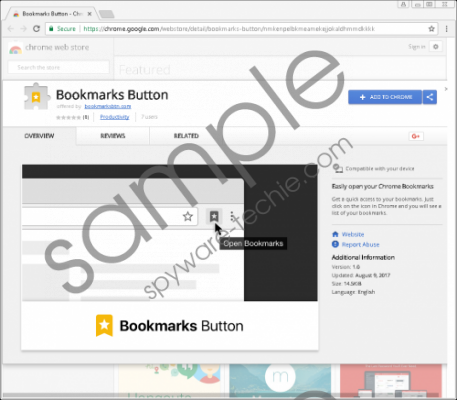 Bookmarks Button screenshot
Scroll down for full removal instructions
Another thing we want to mention is that this browser extension may collect some information about you. Researchers say that, at the very least, this program should be capable of collecting anonymous information such as your browser's version, operating system type and version, IP address, approximate location, and Internet Service Provider domain name.
There is no doubt that Bookmarks Button is one questionable application. Our analysis has revealed that its stated function is nothing but a gimmick because Chrome has a bookmarks bar by default as well as a bookmarks list. Therefore, this program is useless, and you may want to remove it, but it is not mandatory as testing has shown that it did not exhibit malicious behavior. Please see the guide below on how to delete it from Google Chrome.
How to delete this extension
Open Google Chrome.
Tap Alt+F.
Select More Tools and go to Extensions.
Find Bookmarks Button and click Remove.
In non-techie terms:
Bookmarks Button is a highly unreliable application that does nothing to improve your browsing experience. The fact that it provides a bookmarks button mans nothing as Chrome already has a bookmarks bar and list that you can customize to your liking. Hence, this extension is nothing more than a gimmick that you may want to remove. See the instructions above on how to remove it from your browser.