Do you know what Bonzersearch.com is?
It is very important o figure out if your browser was hijacked by Bonzersearch.com or if you let this strange search engine yourself. Also, you need to consider if it is possible that you are redirected to this engine by software that cannot be trusted. Since this search tool is extremely mysterious, we strongly recommend that users who face it immediately scan their operating systems. Make sure you employ a reliable malware scanner because you want to receive accurate results. Without a doubt, you need to delete Bonzersearch.com if it is linked to malware, and you must eliminate this malware as well. Even if the search tool entered your browser on its own, we recommend removing it because it does not offer search services. At the time of research, it could not detect search results at all. Instead, it promoted mapbox.com services, which, of course, have nothing to do with helping you surf the web.
Do you consider Bonzersearch.com to be a helpful and reliable search tool? Our research has revealed that this search engine cannot produce search results, but it could have been revived by the time you are reading this report. Even if it did show search results, we could not recommend trusting this tool because it is likely to showcase advertisements. Although the search engine is meant to be "Powered by Google Custom Search," you cannot compare it with Google Search. This search engine is well-known and reputable, but the "Custom" engine can be customized by whoever is using it. That means that the creator of Bonzersearch.com can easily modify the results – the base of which are the results you would find using Google Search – to include third-party links. This might be one of the main reasons to remove this search tool from your browser because sponsored links could be malicious.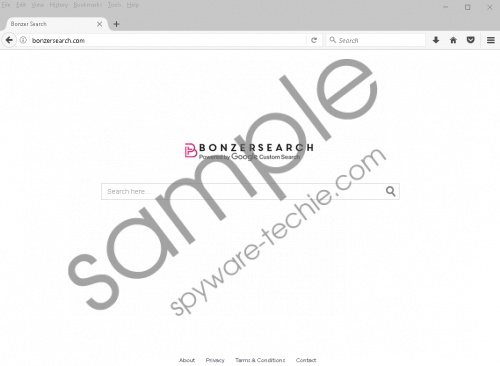 Bonzersearch.com screenshot
Scroll down for full removal instructions
At the bottom of Bonzersearch.com, you can find the "About," "Privacy," "Terms & Conditions," and "Contact" links. The first link introduces you to the creator of the search tool, which, allegedly is leading the "search engine marketing and web traffic generation." It is enough to check this section to learn that the search tool is meant to introduce users to "search-based advertising." The Contact link introduces you to a form via which you can leave a comment, along with your full name and email address. Needless to say, we do not recommend disclosing identifiable information to parties you know nothing or little about. Finally, we have to check the Privacy Policy, and this document informs that Bonzersearch.com can be used for third-party advertising. Do you still think that this search tool is trustworthy or beneficial? If you do not, you probably want to remove it as soon as possible.
What is responsible for Bonzersearch.com? Is it a suspicious browser extension or maybe an undesirable application? Whatever it is, you should use a malware scanner to help you identify it. Once you know the name of the culprit, you can look up the specific removal guide on our website. If you cannot identify a threat, you might have to reset your browsers, and the instructions below explain how to reset Internet Explorer, Mozilla Firefox, and Google Chrome browsers. If you need our assistance eliminating unwanted extensions (from "Add-ons Manager" in Mozilla Firefox and "Extensions" in Chrome) or uninstall unwanted applications via Control Panel, you can add a comment below, and we will rush to help you. Also, remember to scan your PC one more time after you think you are done because you do not want to overlook leftovers.
Delete Bonzersearch.com
Internet Explorer:
Launch IE and tap keys Alt+T.
Select Internet options.
Click the Advanced tab.
Click the Reset button below.
Mark Delete personal settings.
Click Reset again.
Google Chrome:
Launch Chrome and tap keys Alt+F.
Select Settings.
Click Advanced at the bottom of the menu.
Scroll down and click Reset.
Click Reset again for confirmation.
Mozilla Firefox:
Launch Firefox and tap keys Alt+H.
Click Troubleshooting information.
Click Refresh Firefox.
Click Refresh Firefox again for confirmation.
In non-techie terms:
Although our research team does not identify Bonzersearch.com as a browser hijacker or a malicious threat, you certainly need to be cautious about it. At the moment it cannot produce search results, which is a good enough reason to delete it, but it is much more important to delete it because it can introduce you to advertisements and links created by unknown third parties. Unfortunately, it appears that the seemingly harmless search tool acts as an advertising tool, and that is not something to ignore. In case you discover malware – whether it is responsible for Bonzersearch.com or came bundled with it – you should use a reputable anti-malware tool to have your operating system cleaned automatically.