Do you know what BlindBat is?
Have you detected a program called BlindBat onto your computer? Are you not sure whether you can trust it? If it is so, you should know that BlindBat is nothing more than an advertising-supported program. However, it has been observed that it promises much more: to add website ratings and reviews, provide you with the related search results, offers, deals, and coupons. All of them are going to appear while you are browsing the internet, which means that you will probably not be able to browse the web freely as various advertisements are going to appear to you constantly. We recommend that you remove BlindBat for one another reason as well – it is known that it might cause harm via all those commercials promoting different products and services. If you have decided to get rid of BlindBat previously, we are here to help you.
If you had carefully followed the installation setup of BlindBat, you would have definitely noticed that it informs users that it is going to show you various advertisements if they click the "Install" button. It is very important to follow the installation wizard carefully in order to find out how the program is going to act. You will also be able to prevent various additional programs from getting onto the computer. For instance, it is known that BlindBat might come bundled with Linkswift and WindowsShopper. Thus, if you do not select advanced or custom installation, they will be installed straight on the system together with BlindBat. However, if it happens that you have chosen advanced installation, you will be able to un-tick all those unfamiliar programs. In this case, they will not be installed onto your computer.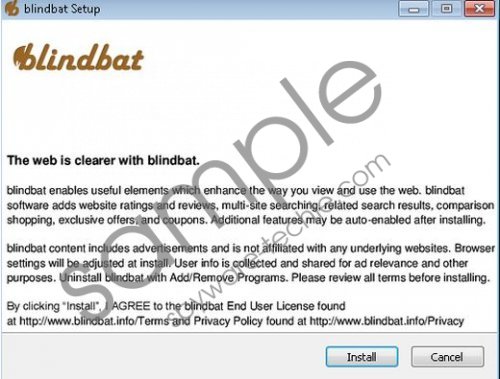 BlindBat screenshot
Scroll down for full removal instructions
The other reason why we do not recommend keeping BlindBat onto your computer is the fact that it displays a variety of advertisements that you will not be able to run away from unless you remove this adware. These ads will especially bother you on such online websites as amazon.com, ebay.com, and the like. You should not click on them if you want to keep your computer protected because you will never know where you will be redirected. Do you think that BlindBat takes care of the content of third party links? You should not be too naive; BlindBat itself does not monitor the content provided by third parties in any way. Thus, the possibility to get in touch with malicious software remains.
If the activities produced by BlindBat annoy you, you can remove it from your computer anytime. If you are a less experience computer user, we recommend that you erase it from your system using automatic removal tool, for instance, SpyHunter. It will remove all the existing threats and keep your computer protected 24/7. On the other hand, you can also use the manual removal instructions that we have provided for you below; they will guide you through the entire deletion process.
How to remove BlindBat
Windows XP
Open the Start menu and then select Control Panel.
Click Add or Remove Programs.
Find the unwanted application on the list.
Click the Remove button.
Windows 7 and Vista
Click the Start menu button and then find the Control Panel.
Click on it and then select Uninstall a program.
Right-click on the program that you have decided to erase.
Click the Uninstall button.
Windows 8
Access the Metro UI menu (press the Windows key).
Right-click on the background and then select All apps.
Select Control Panel from the list.
Select Uninstall a Program.
Find the application which you want to get rid of.
Click the Uninstall button.
In non-techie terms:
BlindBat is not the application which you should keep onto your computer because it is classified as adware and its main purpose is to promote various services and products. These advertisements might not only interfere with your browsing habits, but also expose you to malicious software. We do not recommend clicking on them; you should erase BlindBat itself from your computer instead.
Aliases: Blind Bat.