Do you know what Blekko Search is?
Even though Blekko Search is promoted as spam-free, many computer users find the plugin of this search engine useless. You may have downloaded the add-on onto your Google Chrome, Mozilla Firefox or Internet Explorer browsers without realizing that this application may change certain settings and even slow down the browser you use. Maybe it appeared on your PC after installing bundled downloads? In any case, if you find the search engine irritating, all you have to do is delete Blekko Search. Since the program is legitimate, you should have no problems with its removal; however, if you are confused about the process – follow the removal instructions provided below. Overall, note that the browser add-on is legitimate and does not elevate any security issues if you decide to use it. If you want to learn more – continue reading.
The official page of Blekko Search is blekko.com. Here you are presented with an ordinary-looking search engine with an advertisement displayed below. If you click on it, you are routed to izik.com – a search engine optimized for tablet users. Even though there is no information regarding the danger of this source, you should always remain cautious about third party promotion. Additionally, the search engine offers you an option to register for an account which is meant to enhance your browsing experience similar to the way Google Chrome does. Once you sign up, the application also offers you to surf the web using slashtags system which allows you to perform customized search results. Needless to say, this requires you to share some of your personal information. Here is an excerpt from the Privacy Policy:
When you visit our website, we may send browser cookies (little files for your browser that identify your browser and your visit). blekko also uses cookies to store your username and log-in status, your user preferences (including your privacy options, mentioned above), and other information.
If you do not want to expose your personal data and you wish to delete Blekko Search from your Internet browsers – follow the instructions provided below. This will help your reset your home page and search engine settings as well. If you face issues with the removal of the add-on or you are suspicious about the way your PC works – employ a reliable spyware scanner to check if your PC is not infected with malicious programs.
Manual Blekko Search removal
Remove from Internet Explorer:
Launch the browser and simultaneously tap Alt+T. This opens the Tools menu.
Click on Manage Add-ons and go to Extensions.
Remove the unwanted add-ons.
Now go to Search Providers.
Select a preferred search engine and select Set as default.
Now select Blekko, click Remove and Close.
Tap Alt+T again and this time click on Internet Options.
Click on the General tab and locate Home Page.
Overwrite the unwanted home page and then click OK.
Remove from Mozilla Firefox:
Launch the browser and simultaneously tap Ctrl+Shift+A. This opens the Add-ons Manager.
Click on Extensions, find Blekko and select Remove. Close the window.
Move to the top right corner of the browser and click on the drop-down menu of the search box.
Select Manage Search Engines.
Click on the unwanted search engine and select the Remove button. Click OK.
Now simultaneously tap Alt+T and click on Options.
Under the General tab overwrite the Home Page and click OK.
Remove from Google Chrome:
Launch the browser and open the menu by simultaneously tapping Alt+F.
Go to Tools and click on Extensions.
Find the unwanted extension and click on the trash icon placed next to it.
Click on Settings (menu on the left) and navigate to On Startup.
Select "Open a specific page or set of pages" and click Set pages.
Click "x" on the unwanted startup page, then Add a new page and click OK.
Now click on Manage search engines under Search.
Scroll over the search engine you wish to use and select Make default. Click "x" on the undesirable option and click OK.
In non-techie terms: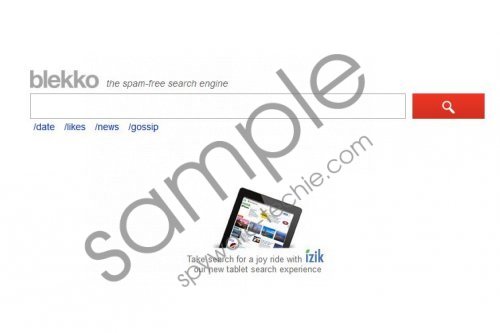 Blekko Search screenshot
Scroll down for full removal instructions
If you wish to remove Blekko Search from your Internet Explorer, Mozilla Firefox and Google Chrome browsers – follow the instructions presented above. If you have more questions – post a comment below.
Aliases: Blekko Toobar.