Do you know what Blackware Ransomware is?
Blackware Ransomware is a random infection that hasn't been developed fully yet. It means that this infection cannot corrupt your files, but it can still lock up your screen with its annoying message. You need to keep your cool and remove Blackware Ransomware from your system immediately. This program drops a few files on your system, so it might be too tedious to remove it on your own. You can always terminate the infection automatically with a licensed security tool. Choose the most efficient removal option that suits you the best.
You may also want to avoid other ransomware programs in the future. The best way to avoid them is educating yourself about their distribution tactics. Usually, Blackware Ransomware and other ransomware programs come as spam email attachments or through corrupted Remote Desktop Protocol connections. In both cases, it requires some action on your part for the infection to enter your system. Therefore, if you are careful enough about the files you download and open, it should be possible to avoid malicious computer infections.
Here you might say that sometimes it is impossible to know whether a file is sent by a scammer or by some reliable sender. Well, in such a case, you can always SCAN the file with a reliable antispyware application before opening it. If the file is deemed secure by the security tool of your choice, you can open without any worries. However, if you fail to scan a certain a file you have received from an unknown sender, you might have to deal with Blackware Ransomware or an even more serious infection in the future. In other words, it is always a good idea to remain attentive when you deal with unfamiliar files.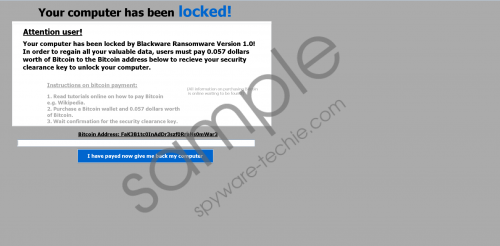 Blackware Ransomware screenshot
Scroll down for full removal instructions
We believe that this version of Blackware Ransomware might be a test run for the program, before it gets fully developed. The reason we think like that is that the program does not encrypt target files. Also, it displays a really odd ransom note that does not make any sense. It is very likely that the people behind this program are only testing waters to see how their app works. On the other hand, if you do not know much about ransomware programs, the note that locks up your screen could look quite intimidating. Here's what it says:
Your computer has been locked!
Attention user!
Your computer has been locked by Blackware Ransomware Version 1.0!
In order to regain all your valuable data, users must pay 0.057 dollars worth of Bitcoin to the Bitcoin address below to receive your security clearance key to unlock your computer.
The ransom itself is obviously a joke, and you don't need to pay it because your data hasn't been encrypted. Also, the Bitcoin address provided in the note is not real. The most annoying part of this message is that you cannot close it unless you have a code. You can find the code right below this description in the removal instructions. There is no need to panic because, as mentioned, Blackware Ransomware, does not encrypt your files.
On the other hand, what would happen if it did? If Blackware Ransomware comes back with a newer version, you have to be ready for it. You should back up your files in an external hard drive or a cloud drive, where a ransomware infection would not be able to reach them. It is always a good idea to have your files backed up, not just because of the potential ransomware infection. This way, you can be sure that you will always have access to your files even if something happens to your device.
As for Blackware Ransomware, you can remove this program following the instructions below. You can also terminate the program automatically with a licensed antispyware tool. There could be more unwanted or dangerous programs installed on your computer, so by using a licensed security tool, you would save yourself the trouble of manually removing every single threat.
Finally, you should employ safe web browsing habits because they are just as important as the security tool that you use to safeguard your system. If you learn to recognize the signs of a potential malware infection, your data and your system will be a lot safer.
How to Delete Blackware Ransomware
Unlock your screen with the RanS0MKeYY23SjLRiOwnEr code.
Open your Downloads folder.
Delete the most recently downloaded files.
Press Win+R and the Run prompt will open.
Type regedit into the Open box and click OK.
Go to HKEY_CURRENT_USER\SOFTWARE\Microsoft\Windows\CurrentVersion\Run.
On the right side, right-click any value named Blackware.
Choose to delete the value.
Scan your PC with SpyHunter.
In non-techie terms:
Blackware Ransomware is a program that can lock your screen. The message it displays on your screen looks scary, but the program itself cannot do much to your computer. You can unlock your screen by using the code provided in the instructions above. You can remove Blackware Ransomware with a powerful security tool that will also protect your system from other infections in the future. For more questions, please do not hesitate to leave us a comment.