Do you know what BizarreHall is?
If you realize that your default search engine has changed, BizarreHall could be the one to blame. It is possible that you have installed this questionable Google Chrome browser extension on purpose, but our researchers say that it is more likely that it has sneaked onto your computer without your noticing it. If the latter is the case, you should know that there could be malware infections hiding on your system. This extension itself does not mean direct and severe threat to you or to your computer, but it may still put your cyber security at risk via questionable content it may display on your screen. Thus, we have classified this threat as a potentially unwanted program, or PUP. We believe that it is imperative that there is no potentially risky or malicious program on your PC to be able to enjoy a secure virtual experience. This is why we recommend that you remove BizarreHall from your browser and all other related and unrelated threat sources as well.
Our researchers have found that this PUP may be spread in malicious software packages. Cyber crooks like to apply this method because they can infect unsuspecting users with multiple threats in one go. Such a bundle may pack several PUPs and malware infections, including browser hijackers, Trojans, fake alerts, and adware programs as well. Unfortunately, most of the times it is actually you who lets these infections enter your system. You may click on a fake download pop-up message displayed by a suspicious website you may be viewing or a malware infection already residing on your system. You should never update or download software in this way in order to avoid such multiple infections. It is essential that you always use official sources for downloading. You may have noticed that certain websites (e.g., online gambling, gaming, torrent, and freeware pages) may host a more than normal number of third-party ads. These pages may also run malicious codes that can trigger redirections to malicious pages or direct drops of malware threats. All in all, we advise you to stay away from such sites and check your PC for questionable programs by running a malware scanner right after you delete BizarreHall.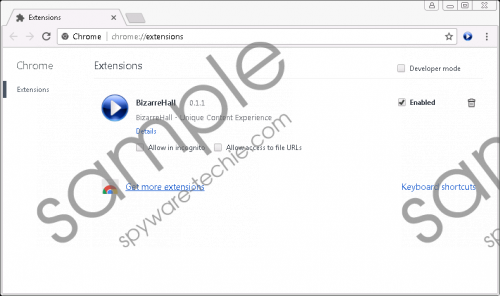 BizarreHall screenshot
Scroll down for full removal instructions
In all fairness, we also need to mention shortly the official website, bizarrehall.com, and the Chrome web store page, chrome.google.com/webstore/detail/bizarrehall/fcbgkmlpmaeaeddfldjhfhjmmglfnfjp, where you can directly install this useless browser extension. Do not believe for one second that just because this tool has its own website and can be found in the web store it is all reliable. Unfortunately, cyber crooks can set up an authentic-looking website and a web store page in no time. The only way for you to know whether an application is worth or safe downloading is run your own web search.
Our researchers say that this PUP was created by the same team that is responsible for other very similar PUPs, including Polimva, Baboom, and Sadooma. When you install this extension in your Google Chrome browser, it sets its own search engine, search.bizarrehall.com, as your default. It also creates a button in your toolbar that display a small panel containing three links to trending articles as well as a search tool at the bottom. This search tool uses the same engine as mentioned before. The articles seem to redirect to a respective viralnova.com article.
The search engine this PUP promotes in fact forwards you search keywords to plusnetwork.com, which is yet another potentially risky search engine. The problem with the search results is that they could be manipulated by this PUP and thus contain potentially unreliable third-party advertisements and sponsored links by promoting affiliates. This is how this tool can make easy money for its creators, i.e., by driving web traffic to third-party websites. Since there is no guarantee that these third parties are all trustworthy, you could end up on malicious websites or drop further infections if you are not careful enough. We recommend that you remove BizarreHall as soon as possible to save yourself unnecessary headaches.
If you are ready with your decision regarding this PUP, we have prepared a guide for you below this article. You can easily use it even if you do not consider yourself a "techie." Please note that this may not solve your security issues completely. It is quite likely that there are other threats on your system, too. Are you looking for a better solution to protect your PC? We suggest that you download and install a professional anti-malware program. Security software like SpyHunter can automatically detect and avert even much more dangerous attacks than this one.
How to remove BizarreHall from your browser
Google Chrome
Press Alt+F and select More tools.
Pick Extensions.
Locate the extension you want to remove and click on the Trash can on its right.
Press Remove.
In non-techie terms:
BizarreHall is yet another useless Google Chrome browser extension that installs a questionable search engine as your default and thus may introduce you to potentially unsafe web content. Keeping this tool that originally claims to provide you with unique viral content could pose a threat to your system security. Another reason for you to want to remove BizarreHall is that it can crawl onto your PC along with more dangerous malware infections. If you do not want to let even more threats onto your system or end up being scammed, you should not hesitate to act. For the more efficient protection of your PC, we suggest that you install a trustworthy anti-malware program as soon as possible.