Do you know what Bitshifter Ransomware is?
Bitshifter Ransomware can make your day become a nightmare in a matter of minutes as it encrypts all your important files. This vicious program is unlike most ransomware infection as it can also steal vital sensitive information from your computer. This makes it even worse than the usual encryption attacks. Hopefully, you have a backup of your most important files so that you can recover them easily after you remove Bitshifter Ransomware, of course. Unfortunately, if you have no backup, it is quite likely that you will lose your files because our researchers say that there is no free file recovery tool on the web yet. Keep in mind that by deleting Bitshifter Ransomware you will not make your files accessible or usable. Please read our full report on this dangerous threat so that you can protect your PC from the next one at least.
There are a number of ways this ransomware may be able to crawl onto your system. As of yet, we cannot confirm any of these distribution methods as the main one though. The most likely way is getting infected via spamming campaigns. Criminals like to use this method because they can infect a great number of victims in virtually no time. This spam can be very convincing and you may easily fall for it even if you are not an inexperienced user. This crooks may use existing names and e-mail addresses that belong to people working for government agencies, local police, or well-known companies. Of course, they can also make up some authentic-looking ones as well. However, when you look at this mail, you may feel that it is important for you to open as the subject will make it even more real. This spam can claim to be about an unsettled invoice or speeding ticket, problem with your bank account, or wrongly given credit card details. The worst thing you can do is actually click to save and run the attached file in this mail as that is the malicious executable file itself. This is why it is too late for you to delete Bitshifter Ransomware from your system because by the time you realize its presence, your files will have been encrypted.
It is also essential that you keep your browsers and Java and Adobe Flash drivers updated because cyber crooks can use so-called Exploit Kits to attack you without your knowledge. For example, you may click on a third-party ad or link on a shady website and get redirected to another page on a new tab. However, this page could be armed with a kit that can drop this infection behind your back the moment the page loads in your browser. You may realize that this page could be malicious but by the time you close the tab or the browser window, this ransomware could be starting up its vicious mission to lock your files. Once again, when you remove Bitshifter Ransomware, it is already too late to save your files.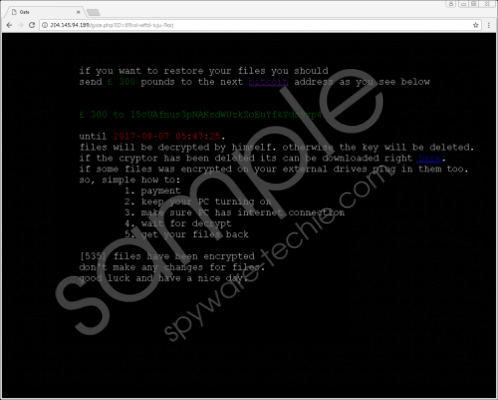 Bitshifter Ransomware screenshot
Scroll down for full removal instructions
This malware infection appends a ".gollum" extension to the file names that have been encrypted. Once done with its main task, it creates a text file on your desktop ("ARE_YOU_WANNA_GET_YOUR_FILES_BACK.txt"), which is the ransom note itself. This note instructs you to pay 300GBP in Bitcoins, which is around 0.1 BTC at the time of writing, to a Bitcoin address provided in the note. Since there is no guarantee whatsoever that you will get your files decrypted, as promised, automatically, we do not recommend that you even think about paying. On the other hand, please also consider the fact that you would help cyber criminals to commit further crimes on the net. Unfortunately, in this attack you may lose more than your photos, documents, videos, and archives. This ransomware infection is capable of stealing sensitive information from you, such as crypto-currency wallet details and more. This is why it is so important that you remove Bitshifter Ransomware from your PC as soon as possible.
This malware infection does not copy or replicate itself anywhere on your system, and it does not use any other files to operate with either. Therefore, it is quite straightforward to eliminate this threat. Please follow our instructions below if you want to put an end to this dangerous infection on your own. However, this may be a good time to think about protecting your system with a proper anti-malware program like SpyHunter if you do not want to suffer another similar attack in the future.
How to remove Bitshifter Ransomware from Windows
Press Win+E.
Delete all suspicious files you have downloaded recently. (Including either Launcher.exe or Network.exe in %Temp%)
Delete the ransom note.
Empty your Recycle Bin and restart your PC.
In non-techie terms:
Bitshifter Ransomware is a severe threat to your computer and to your files, not to mention your private, sensitive information you may store on your computer. This malicious program does not only encrypt your files, but it can also steal your logins and passwords as well as other important personal information. This is really bad news because this mean great damage to you and to your files, too. You are offered automatic decryption for 300 GBP worth of Bitcoins, but we do not advise you to pay any money to these criminals or any criminal for that matter. It is always risky to transfer money to crooks as you may only get more malware threats in return if anything at all. We highly recommend that you remove Bitshifter Ransomware as soon as you can. If you need proper defense for your PC, we suggest that you install a trustworthy malware removal tool.