Do you know what BitPyLock Ransomware is?
If you do not have money to waste, BitPyLock Ransomware is an infection you need to keep away from your personal files. If it attacks successfully, it encrypts files, and then you are instructed to pay a huge ransom in return for a decryption tool that, allegedly, could restore them. Of course, our research team does not believe that this tool would be sent to those who pay the ransom. By promising you to give you a decryptor in return for your money, cybercriminals are toying for your trust, and you cannot let them get to you. Of course, if you do not have backups to replace the corrupted files, you might be out of options, and so obeying cybercriminals might seem like a risk worth taking. We do not believe that it is, but you have to make your own decisions when it comes to your files. Whatever happens, you must remove BitPyLock Ransomware at the end.
If BitPyLock Ransomware has slithered into your operating system, you might remember opening a strange spam email attachment or downloading files from strange sources. This is how most file-encrypting threats spread, but they also can exploit unpatched vulnerabilities and even use other threats to get in. Needless to say, it is not enough to delete BitPyLock Ransomware to protect yourself afterward, and if you continue opening attachments, downloading files, or leaving your system exposed, you could face new threats in no time. Note that there are thousands of ransomware infections in the wild, some of which include 5ss5c Ransomware, Horsedeal Ransomware, Snake Ransomware, or Devil Ransomware. Once BitPyLock infection slithers in, it encrypts all of your personal files, and you should find the ".bitpy" extension appended to their names. Do not bother removing it.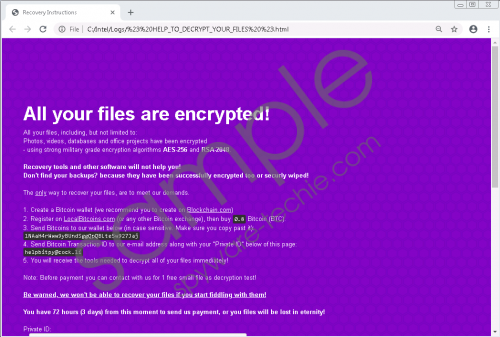 BitPyLock Ransomware screenshot
Scroll down for full removal instructions
Next to the encrypted files, BitPyLock Ransomware drops "# HELP_TO_DECRYPT_YOUR_FILES #.html," a file that delivers a message created by cybercriminals. According to it, AES-256 and RSA-2048 encryptors have been used to lock your files, and all backups were wiped as well. Obviously, if your backups are stored online or on external drives, you have nothing to worry about, but you should not connect to them until you actually delete BitPyLock Ransomware. According to the message created by the attackers, your only chance of restoring files is by sending a ransom of 0.8 Bitcoin – which, at the time of research, was around $7,500 – to the 1NAaH4rWww9yBUndSggQpQBLte5w927Jaj Bitcoin wallet. When we checked it out, it was still empty, and we hope that it stays that way. The ransom note also demands that victims send the Bitcoin transaction ID to helpbitpy@cock.li, and if you think you can use this email address to plead with cybercriminals, you're mistaken. You should not get involved at all.
According to our malware experts, BitPyLock Ransomware should delete itself after execution, but of course, we cannot guarantee that that is what would happen. Therefore, the very least you should do is inspect your operating system using a legitimate malware scanner, which you can download for free. It is best, of course, if you employ a legitimate anti-malware program right away. It will remove BitPyLock Ransomware leftovers – if they exist – and it will also secure your system, which is crucial. Hopefully, you can replace the corrupted files with backup copies afterward.
Remove BitPyLock Ransomware
Delete all recently downloaded suspicious files.
Delete all copies of the # HELP_TO_DECRYPT_YOUR_FILES #.html file.
Empty Recycle Bin.
Install and use a malware scanner to examine your system for leftovers.
In non-techie terms:
It is crucial to backup important personal files outside the computer that has the original copies because there are plenty of file-encrypting infections out in the wild. BitPyLock Ransomware is one of them, and when it encrypts your files, you cannot read them, and at the time of research, it also was not possible to recover them. Of course, if you have backups stored outside the computer, you can easily delete the corrupted files and replace them. If you do not have backups, cybercriminals might convince you to pay a huge ransom in return for a decryptor. Do you think you can trust them? We do not think so, and that is why we do not recommend paying the ransom. Whatever you end up doing, you must remove BitPyLock Ransomware. Technically, it should delete itself, but we strongly advise employing legitimate anti-malware software to ensure that your system is fully cleaned and also protected for the future.