Do you know what Bitcryptor Virus is?
Bitcryptor Virus is one devious threat that can encrypt your most valuable and sensitive files on your Windows operating system. Similarly to CoinVault ransomware and other infections from the Cryptolocker family, this threat uses different tricks to enter your PC without your noticing. For example, you might find that you need to delete Bitcryptor Virus from your operating system after you open corrupted spam email attachments or download malicious bundles. Once activated, this infection encrypts your personal files (mostly text and picture files) in order to have leverage when demanding a ransom. This ransom is presented via a notification indicating that you need to pay 1Bitcoin – which is around €207 or $236 – within the given time. This is an intimidating demand that often delays users from removing this virus.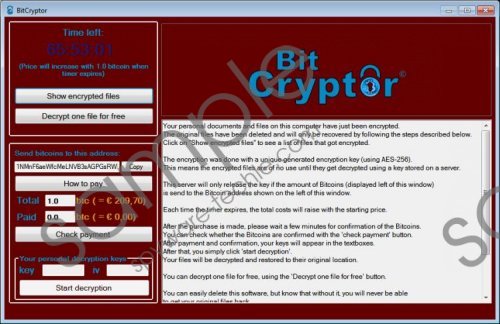 Bitcryptor Virus screenshot
Scroll down for full removal instructions
Once installed, Bitcryptor Virus not only corrupts personal files, but also blocks all major programs. Luckily, this threat does not block web browsers, which makes it easier to research this clandestine infection and its removal. Unfortunately, the removal of Bitcryptor Virus has nothing to do with the decryption of your personal files. Whether you keep this ransomware active, or you delete it, your personal files will remain locked. Many computer users choose to pay the ransom, but there are no guarantees that cyber criminals would keep their promises to decrypt your personal files. Other users choose to delete Bitcryptor Virus without worrying about their files, and this is what you should do if you have backup copies in removable or online storage. You might also be able to find file decryption tools. Whatever you do, it is most important that you eventually remove Bitcryptor Virus.
According to our research team, Bitcryptor Virus drops malicious files to folders under %APPDATA% and %TEMP%. Keep in mind that the name of this malicious ransomware, as well as the files that are used to control it, can be randomized. Even though some users might be capable of removing Bitcryptor Virus files manually, we strongly suggest trusting automatic malware removal software instead. Unfortunately, the installation of this software can be quite complicated, which is why we have created this removal guide. If you follow it carefully, we are sure that you will be able to delete Bitcryptor Virus in no time.
Delete Bitcryptor Virus from Windows
N.B. Scroll down to the bottom of the article to find the removal instructions for Windows 7 and Windows Vista users.
Remove from Windows 8 & Windows 8.1
Click the Power Options button in Metro UI.
Click Restart while pressing the Shift key. The Troubleshoot menu will appear.
Go to Advanced options, click Windows Startup Settings, and select F5 (Safe Mode with Networking).
Once the PC is reboot, launch a browser, and visit http://www.spyware-techie.com/download-sph .
Download and install a program that will help you remove Bitcryptor Virus and other malicious threats.
Remove from Windows XP
Restart your PC, wait for the BIOS screen to load, and start tapping the F8 key.
Select Safe Mode with Networking using arrow keys and tap Enter.
Click Yes on the Windows is running in safe mode alert.
Launch a browser and visit http://www.spyware-techie.com/spyhunter .
Click the Download button and install a reliable automatic malware removal tool.
In non-techie terms:
The malicious Bitcryptor Virus is a serious threat, and you need to delete it as soon as possible. If you are sure that you know how to delete this infection from your computer manually, waste no more time and get rid of it. If you are struggling, install an automated malware remover to delete Bitcryptor Virus for you. Note that other infections might have been installed onto your PC, which is why our malware research team strongly recommends using this software.