Do you know what Bisquilla Ransomware is?
Bisquilla Ransomware is a program that is probably a test run for something bigger that is about to come. You can probably tell from its name that this program is a ransomware infection, and so it should encrypt target files, right? Well, we can see from its code that it is supposed to do that, but so far, this program is not able to. It's a good thing because we simply need to remove Bisquilla Ransomware from our computers to be done with it. However, it also means that a similar infection might appear quite soon, and it will be a lot more dangerous than this one.
Users tend to download ransomware programs without even realizing it. After all, who in their right state of mind would ever want to download a ransomware program, right? Hence, it is very likely that users are tricked into opening ransomware installer files.
This usually happens when Bisquilla Ransomware and other similar ransomware comes as spam email attachments. We all know that we should ignore spam email, but sometimes it is hard. If you deal with emails every single day, and if you have to check various documents all the time, sometimes it could be hard to discern a real document from a fake one. And while most of the spam emails are filtered into the Junk folder, sometimes they manage to seep through into our main inboxes because they happen to look very sophisticated.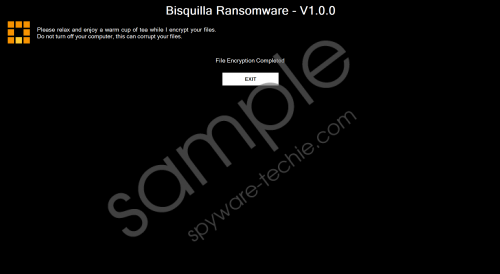 Bisquilla Ransomware screenshot
Scroll down for full removal instructions
Either way, it calls for caution when you open received files. If you are not 100% sure that the file is safe and if you do not know the sender, it would be for the best to scan the attached file with a security tool of your choice. This is the basic security measure that would definitely minimize the possibility of a ransomware infection.
Once again, there is no need to panic if you get infected with Bisquilla Ransomware because this program still cannot encrypt your data, and it doesn't even drop any additional files, so it is rather easy to remove it. However, if this program DOES manage to enter your system, it is a good wake-up call that shows you clearly need to do something about your cybersecurity habits.
As far as the technical aspects of Bisquilla Ransomware are concerned, this program is written in the .NET programming language. It is not an entirely new infection because the main code is taken from the Jigsaw Ransomware infection. In other words, it shares a lot of features with the previously released infection, although the program is still in development.
Although the program doesn't encrypt your files, it can still scare you quite a lot when it enters your system. Upon the installation, Bisquilla Ransomware opens a CMD window, and then it generates another pop-up with a black background. Here's what the pop-up says:
Please relax and enjoy a warm cup of tea while I encrypt your files.
Do not turn off your computer, this can corrupt your files.
As we have already established, Bisquilla Ransomware cannot encrypt anything, so this is just a test ride, and the message this program displays may change in the future. You can close that pop-up by clicking the Exit button, and that would be it.
We do know, however, that Bisquilla Ransomware is coded to encrypt multiple file formats. The supported extension list includes PNG, PDF, JAVA, VBS, CSC, MP3, DOCX, PHP, EML, MPEG, and many other formats. So if there is a new version of Bisquilla Ransomware coming out soon, it is very likely that these file formats will be affected after the encryption.
To remove Bisquilla Ransomware from your computer, you need to delete the file that launched the program. Check all the directories where you save downloaded files for anything suspicious. If you do not remember what you downloaded, use a reliable antispyware application to scan your system and delete the malicious files automatically.
A full system scan is always a good idea because you might as well have more dangerous programs installed. It just so happens that malware seldom travels solo. So the sooner you scan your computer, the better.
How to Delete Bisquilla Ransomware
Remove unfamiliar files from Desktop.
Open the Downloads folder.
Delete the most recently downloaded files.
Press Win+R and the Run prompt will open.
Type %TEMP% into the Open box. Click OK.
Delete the most recent files from the directory.
Use SpyHunter to scan your computer.
In non-techie terms:
Bisquilla Ransomware is a program that is supposed to lock up your files, but it doesn't. This program hasn't been fully developed yet. We have to remove it immediately, and then look for ways to protect your system against similar threats. You have to be careful about the files you download and open. Also, it would be a good idea to back up your files on an external hard drive or a cloud drive. You can never know when another ransomware infection will strike, so it's better to be safe than sorry.