Do you know what .bip File Extension is?
Recently, our computer security specialists have noticed a malicious file-encrypting program that adds the so-called .bip File Extension at the end of all locked files' titles. What's more, the infection appears to be a new variant of previously researched malware named Dharma Ransomware. It means the threat acts somewhat similarly, although there are some differences between them. Naturally, if you keep reading our report, we will tell you all about this malicious application that appends the .bip File Extension, such as its possible distribution channels, working manner, deletion methods, and so on. Additionally, users will find a removal guide showing how to get rid of this infection manually just a bit below the article. Needless to say, if the task appears to be a bit too difficult; it would be smarter to acquire a reputable antimalware application and let it deal with the threat for you.
As we already explained the so-called .bip File Extension should appear on each file affected by a particular variant of Dharma Ransomware. Our computer security specialists say the actual extension should consist of a unique ID number generate by the malware and a specific email address. However, since the ID number is always different and the malicious application's developers might use lots of different emails, it was decided to call the extension according to the part that never changes, which is ".bip." For instance, the sample we tested added .id-B6801975.[Beamsell@qq.com].bip to each encrypted file. Nevertheless, the described extension should be appended only after the .bip File Extension ransomware settles in.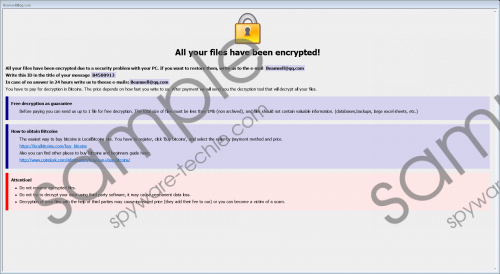 .bip File Extension screenshot
Scroll down for full removal instructions
The malicious application is believed to be spreading through infected software installers, Spam emails, and so on. In other words, it could appear on the computer right after launching some suspicious file downloaded from unreliable sources. To settle in the .bip File Extension ransomware may place copies of itself and create a couple of Registry entries to make the computer run it and its ransom note automatically after it restarts. This means all the data the victim could create later on might be encrypted as well once the computer is turned off and on again. Speaking of the malware's ransom notes our computer security specialists tell they should not say much besides asking the user to contact the malicious application's creators via email. We are almost one hundred percent sure these people would demand to pay a ransom and promise to send decryption tools or restore your enciphered data for you, but the truth is the hackers cannot be trusted as they might trick you. Consequently, we recommend not to pay any attention to the ransom notes and erase the .bip File Extension ransomware.
There are two ways to delete the malware, so you can pick one that fits you best. For instance, more experienced users could follow the removal guide available below this article and erase it manually. As for less experienced readers, we would suggest downloading a reputable antimalware tool instead. Another thing we should mention, users who have backup copies can use them to replace encrypted data, but for safety reasons, we recommend doing so only when the .bip File Extension ransomware is eliminated.
Get rid of the .bip File Extension ransomware
Launch Task Manager (Ctrl+Alt+Delete).
Pick the Process tab and look if you can find any suspicious processes.
Select a process possibly related to the malware and press End Task.
Close your Task Manager and open File Explorer (Windows Key+E).
Provided the device might have been infected because you launched some suspicious file go to the Downloads, Temporary Files, Desktop, or other folders where such file could have been saved.
Identify and right-click the threat's installer to press Delete.
Insert these two directories separately into the Explorer and press Enter:
%APPDATA%\Microsoft\Windows\Start Menu\Programs\Startup
%WINDIR%\System32
Locate the infection's copies, right-click them and select Delete.
Find and remove files titled Info.hta and FILES ENCRYPTED.txt.
Close the Explorer, then press Windows Key+R, type Regedit and choose OK.
Navigate to the listed path: HKLM\SOFTWARE\Microsoft\Windows\CurrentVersion\Run
Look for value names that could be associated with the malicious application.
Right-click such value names and press Delete.
Close the Registry Editor.
Empty Recycle bin.
Restart the computer.
In non-techie terms:
A unique version of .bip File Extension should be seen on files encrypted by a recently developed variant of Dharma Ransomware. Unfortunately, the added extension is only for a purpose to mark locked files, which means eliminating it from the encrypted file's title would make no difference. That is because the malware is supposed to encrypt the victim's data with a secure encryption algorithm; as a result, making the affected files unrecognizable. The cybercriminals behind the infection might have the means to decrypt such data, but keep it in mind in return they may ask to pay a ransom and even if you agree there are no guarantees they will deliver the needed decryption tools. Thus, we recommend not to take any chances with this malicious application and erase it from the system. If you think it would be the safest choice too, we encourage you to follow our removal guide available a bit above this paragraph or install a reputable antimalware tool to delete the threat with automatic features.