Do you know what Big Sporting is?
If you are thinking about obtaining a program that is called BigSporting, you should be aware of the fact that it is just your average adware program, which will cause endless annoyance and frustration. Unfortunately, a rather vast number of people already have this devious program up and running on their operating system since its developers tend to use devious means of distribution as well as misleading marketing tricks; thus, users are fooled into obtaining this adware without fully understanding its functionality. On its official website, this ad-supported program is promoted as a tool that should help with your online shopping needs mostly regarding sports items. Also, you are promised to be presented with great news feed in regards to sporting results and upcoming events. While all of this sounds great, you must know that in reality all these features do not exist as this devious application will only cause tons of disruptions while you are surfing the web. We highly recommend conducting a complete removal of Big Sporting as it holds no valuable features. Terminate it by following the detailed instructions that we present below.
Big Sporting functions in a rather basic way as it exhibits all the usual features that any other suspicious adware program would. As soon as it enters your operating system, it distributes its devious files and registry entries all around your operating system and then starts a silent background system service to establish lasting connections to various adware servers. Such functionality of this adware program allows it to present you with devious content, which will make your online activities miserable, to say the least. The most annoying thing about all of that is the fact that Big Sporting will not provide any useful content of any sorts. Instead of being presented with useful ads or discount deals in regards to sporting goods, you will be presented with irrelevant pop-ups mostly related to online dating sites. Such invasive and random functionality of Big Sporting will cause endless frustration, to put it mildly. The unfortunate thing is that you will not be able to stop the intrusive functionality of this adware by simply killing the background system service via a Task Manager as it will most likely be restarted with your next system startup. To surf the web without constant disruptions, you will need to conduct a complete removal of this ad-supported program, meaning that you will need to be sure that every single bit of it has been deleted from your PC.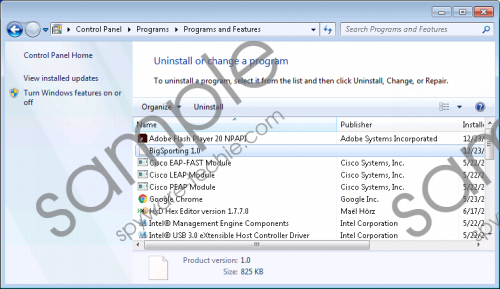 BigSporting screenshot
Scroll down for full removal instructions
Unfortunately, annoying web content of Big Sporting is not the worst thing about it. During the research, it has been discovered that during connections to those devious adware servers, something much more alarming could happen. It has been noticed that a silent download could be triggered, and an invasive application could be downloaded. This is not too surprising since adware servers are notorious for being linked to malware distribution. Therefore, it is important to check your PC for questionable software if you have this adware fully functioning on your computer. It goes without saying that if any devious application is found it must be removed from your PC along with this intrusive adware program. Even though such unauthorized downloads do not occur often, it remains a possibility, which could have devastating outcomes, to say the least. It goes without saying that such activity should never be ignored as it is a major virtual threat. Do not hesitate and remove Big Sporting from your personal computer to maintain a system that is fully secure at all times.
The complete removal of Big Sporting should be executed with care as you need to get rid of every single bit of this adware program; otherwise, the devious activity will continue to bother you. This is why it is imperative to conduct an in-depth analysis of your personal computer right after you are done with the manual removal. This way you will be sure that the removal of Big Sporting has been successful. If you just a few leftover files or registry entries associated with BigSporting are still active on your computer, your online activity will continue to be disrupted.
How to remove Big Sporting from your PC
Windows 10
Right-click the Windows button.
Select Control Panel.
Click Uninstall a program.
Locate and select the unwanted program.
Click the Uninstall button.
Windows 8 and 8.1
Right-click your Task Bar.
Select Control Panel and click Uninstall a program.
Double-click the BigSporting.
Confirm that you want to remove it.
Windows 7
Click the Windows button.
Select Control Panel.
Click Uninstall a program.
Select the undesirable application and click Uninstall.
Windows XP
Click Start and select Control Panel.
Select the Add or remove programs option.
Right-click BigSporting and select Remove.
In non-techie terms:
It is important to note that some user might not feel fully comfortable performing manual removal and analysis of their PC since it might involve registry tweaking and other rather complicated task. This is why our team of malware researchers have crafted an alternative removal guide that we present below. Follow these instructions and you will be able to remove Big Sporting in an automatic manner.