Do you know what Biger@x-mail.pro Ransomware is?
Biger@x-mail.pro Ransomware places a long prefix at the start of each encrypted file's title and adds the .doubleoffset extension at the end. As a result, data on the device, infected with this malicious application, should have long names consisting of unique ID numbers, specific email address, and random characters. The threat does this after it enciphers various private files like pictures, photos, and documents with a secure encryption algorithm. Then it should display a note urging to contact the malware's developers, which we recommend against. If you believe you have encountered this malicious application we encourage you to read the rest of this report. Further, in it, we will explain why we do not advise contacting the hackers, how to close the malware's window, and how to get rid of Biger@x-mail.pro Ransomware itself once and for all. For more detailed instructions on how to erase the threat manually, you should have a look at the removal guide available below.
First things first, we would like to talk about the possible Biger@x-mail.pro Ransomware's distribution channels. Our computer security specialists say it could be distributed via Spam emails, although we cannot be one hundred percent sure. Besides infected email attachments, the infection might get in with unreliable software installers and any other data downloaded from questionable sources. In other words, the ransomware could be spread in a couple of ways. Still, it does not mean you cannot protect your computer from it. For starters, we recommend against opening unreliable email attachments, for example, files sent by people or companies you do not now. Next, it is best to keep away from torrent or other untrustworthy file-sharing websites. Not to mention, it would be a good idea to acquire a reputable antimalware tool. Not only to perform regular check-ups but also to scan suspicious data before launching it or to get warned about questionable content.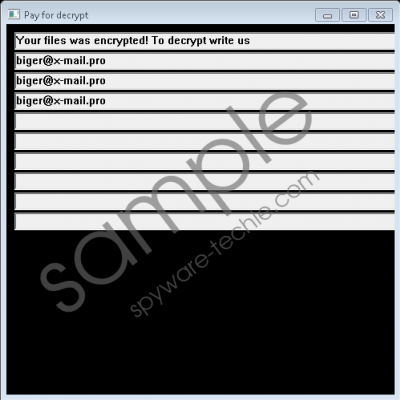 Biger@x-mail.pro Ransomware screenshot
Scroll down for full removal instructions
In case Biger@x-mail.pro Ransomware slips in, the malware should start encrypting user's files. As we said earlier, the malicious application modifies affected files' titles by adding specific prefixes and extensions. Nevertheless, before enciphering the victim's data, it should create a particular Registry entry to make the computer relaunch the infection after each restart. Also, because the threat's installer keeps running it is impossible to close its window with the ransom note. Meaning, you would have to kill Biger@x-mail.pro Ransomware's process to close it. The ransom note does not explain a lot as it only asks to contact the hackers via particular email. It is not unusual not to mention decryption tools or the fact the user would have to pay for them as quite a lot of threats display messages only with email addresses. Thus, we suspect the malware's creators should ask for a ransom if the user contacts them.
It is crucial to understand; it is unwise to trust hackers as they could trick you. For example, the malicious application's developers might take transferred money without delivering promised decryption tools or start asking for more money than it was agreed. This is why we advise not to take any chances and erase Biger@x-mail.pro Ransomware. The removal guide you should see below this paragraph explains how to delete it manually. If the process appears to be too challenging or you are not sure if there are no other threats on the computer, we recommend scanning it with a reputable antimalware tool instead.
Erase Biger@x-mail.pro Ransomware
Click Ctrl+Alt+Delete simultaneously.
Pick Task Manager.
Take a look at the Processes tab.
Locate a process associated with this malicious program.
Select this process and tap the End Task button.
Press Windows Key+R.
Type Regedit and press Enter.
Navigate to this location: HKCU\Software\Microsoft\Windows\CurrentVersion\Run
Look for a key named id or similarly (its value data should point to a malicious executable file in C:\Users\user\AppData\Local\Temp), right-click it and select Delete.
Leave Registry Editor.
Click Windows Key+E.
Navigate to the suggested paths:
%TEMP%
%USERPROFILE%Desktop
%USERPROFILE%Downloads
Find a file launched when the system got infected, right-click the malicious file and select Delete.
Go to C:\Users\user\AppData\Local\Temp
Find a malicious executable file with a random title (e.g., AEPEKUWRNQ.exe), right-click it and select Delete.
Locate the malware's ransom notes (README.TXT); right-click them and press Delete.
Close File Explorer.
Empty Recycle bin.
Restart the computer.
In non-techie terms:
Biger@x-mail.pro Ransomware is a threat that encrypts personal data located on the device. As a result, the victim becomes unable to open it. The purpose of doing so is to make the user want to contact its developers, which is why the infection affects personal files that could be precious to the victim. Our computer security specialists suspect the malware's creators would ask to pay a ransom, although the ransom note does not mention it. Nonetheless, it is a possible scenario since usually such infections are designed for money extortion. No matter how important the encrypted files might be, we recommend against contacting the hackers as there is a possibility they could trick victims. If you do not want to risk it, we advise you to get rid of the malicious application with the removal guide available above or your chosen antimalware tool.