Do you know what BetterEnhance is?
BetterEnhance is a free browser add-on which displays various advertisements, including web banners, pop-ups, interstitial ads, coupons, and in-line advertisements. This application is supposed to enhance your experience on the Internet; however, after installing the application, you may find that it does nothing but only disturbs you. BetterEnhance works on basically every website and displays random advertisements. Our malware researchers categorize this application as adware. In case you are already familiar with the characteristics of BetterEnhance and want to remove it from your PC, move down to the last section to learn how to remove BetterEnhance effortlessly.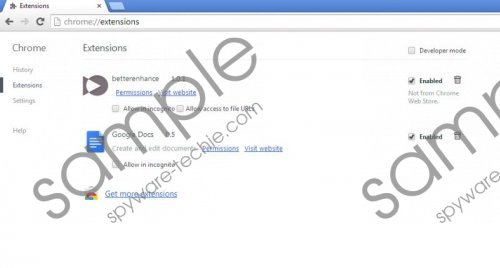 BetterEnhance screenshot
Scroll down for full removal instructions
The adware program is developed by SuperWeb, which is the developer of Blarble, TasticSurf, RambleRoam, and many other identical programs. The identical applications are promoted on very similar websites, and betterenhance.com is the official website of BetterEnhance. Like other SuperWeb programs, BetterEnhance can be bundled with other programs, so if you do now want to encounter it in the near future, you should always pay close attention to the different pages of the installation wizard.
Once installed, the adware program starts monitoring your browsing actions. It uses tracking cookies to record your clicks, information about advertisements that you click on, your search term, browsing history, and other non-personally identifiable information. Your name and other personally identifiable information is not targeted by BetterEnhance, but there is a chance that some information about you will be recorded. If you do not want to risk your privacy, remove BetterEnhance from the computer as soon as you can.
You should also be very careful with BetterEnhance pop-ups. BetterEnhance does not endorse the third parties advertised, which means that you may be find advertisements inviting you to visit unreliable websites. There are many scam websites that may attempt to obtain your personal information, make you subscribe to mobile services, or encourage you to install some unreliable program. In any case, you should be very careful because BetterEnhance does not accept responsibility for the actions of third parties, which means that you interact with various advertisements at your own risk.
When it comes to removal, our team recommends using SpyHunter because this application can eliminate the application and also shield the system from various computer threats. It can fight of Trojan horses, browser hijackers, adware programs, rogue anti-virus programs, and many other threats. If your operating system is not protected by any computer security tool, act right now to implement the recommended program.
How to remove BetterEnhance
Windows Vista and Windows 7
Click Start.
Select Control Panel and click Uninstall a program.
Remove BetterEnhance.
Windows 8
Press Win+R and enter control panel.
Click OK.
Select Uninstall a program.
Remove BetterEnhance.
Windows XP
Click Start.
Select Control Panel.
Click Add or Remove Programs.
Uninstall BetterEnhance.
In non-techie terms:
After uninstalling the program, do not forget to scan the computer. We recommend using the scanner available below because it can detect BetterEnhance and other malicious files. The application is free of charge, so do not miss the chance to examine the system.