Do you know what Best Online Deals is?
Best Online Deals is an adware application that will not allow you to browse the Internet properly. The application will spam you with annoying advertisements, trying to convince you that they can help you find the best deals online. However, if you click any of the ads, you will only be helping the people behind Best Online Deals make an easy profit . If you want to avoid potential computer security threats and protect your computer from harm (and you most certainly do), please remove Best Online Deals as soon as possible and then do not hesitate to acquire a licensed antispyware application.
The program will try to make you think that it is a reliable browser extension. Just like its predecessors, Best Online Deals has a homepage where it is promoted like your next best shopping buddy. If you were to open the website at bestonlinedeals.co, you would encounter the promotional lines that read:
We're free
We work with all major websites
We find the cheapest deals
Lowest price, effort free

Download
Now, it would be nice if the download button worked, but it is not possible to download the application from the official website. However, that is no problem for this adware application because it employs many other distribution methods to reach your computer.
Since Best Online Deals belongs to the Lyrics family, it uses the same means of distribution as Lyrics Fan, Lyrics Monkey, Boby Lyrics, and other similar applications. The program travels in software packages with several other freeware and adware applications. You may not be aware of the fact you are about to download this adware program on your computer, but you need to remember that it is NOT SAFE to install programs you encounter on third-party file-sharing websites.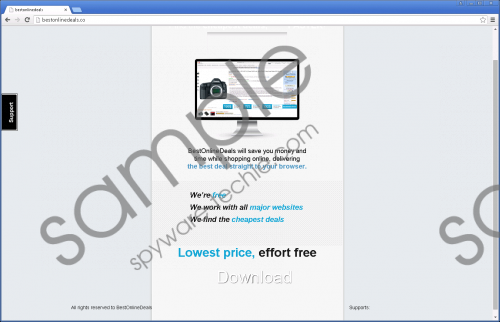 Best Online Deals screenshot
Scroll down for full removal instructions
File-sharing and torrent websites do not review the third-party installers they host, and so almost anyone can upload their files there. As a result, several programs are bundled into one package, and Best Online Deals is one of them. Usually, it should be possible to deselect the unwanted applications during the installation process, but practice shows that users often just skip through the setup steps, without bothering to read anything properly.
Therefore, the likes of Best Online Deals get installed on your system, and the program starts collecting information on your web browsing habits. Before long, you will be bombarded with annoying commercial ads that will try to make you click them. Most of the ads will be related to something you have recently been looking for. That is why it will look like the Best Online Deals ads cater to your likes and preferences, but you should not fall for this.
Clicking the ads will only redirect you to unfamiliar websites that will be related to suspicious online marketing schemes and sometimes even malware distribution networks! You definitely need to avoid that, so start with the easiest steps: remove Best Online Deals from your computer.
Open your Control Panel and uninstall all the unfamiliar applications. If you cannot tell which programs are potentially harmful, get yourself a reliable computer security tool, and it will do the job for you automatically.
How to Delete Best Online Deals
Windows 10, Windows 8.1 & Windows 8
Press the Windows key+R.
Type "control" into the Run command prompt.
Press Enter and go to Uninstall a program.
Highlight Best Online Deals and click Uninstall.
Windows Vista & Windows 7
Open the Start menu and navigate to Control Panel.
Select Uninstall a program and remove Best Online Deals.
Windows XP
Click the Start menu and select Control Panel.
Access Add or remove programs and uninstall Best Online Deals.
In non-techie terms:
Best Online Deals is an application that enters your system uninvited. It may lead to severe computer security programs, so it is on your best interests to get rid of it as soon as possible. You may refer to the alternative software removal instructions below this description, but do not forget that your best shot at ensuring your system's safety would be investing in a legal antispyware tool. Please consider your computer's security your utmost priority.