Do you know what Best Cleaner is?
You may find Best Cleaner on your computer and the annoying third-party ads this program may distract you with after you install a questionable software bundle. Since you cannot officially download this program, its presence on your PC is rather questionable and suspicious. This should already raise your concerns about this software. As a matter of fact, our researchers have tested this tool in our internal lab and have come to the conclusion that it is a potentially unwanted program, or PUP. We do not claim that this PUP is a major threat to you, such as a ransomware attack would be, but you still need to be careful having such a potentially risky application on board.Our experience shows that if you want to keep your computer secure, you should remove Best Cleaner and any other programs you may find even slightly questionable. Please read on for more on this infection and how you can protect your operating system and stored data from similar or even worse threats.
All decent programs have official websites that promote them; unfortunately, less decent or downright malicious programs can also have promotional pages, which only makes it more difficult for inexperienced computer users to spot them. Nevertheless, this PUP does not appear to have any official pages and that is not a good sign at all when it comes to reliability. In fact, you should ask yourself the question why and how such a program is on your system at all. Let us help you with the answer: You must have installed it via a freeware bundle. Have you visited any gaming, dating, or file-sharing (torrent and freeware) websites lately? Did you download anything? Did you click on any content on these pages? Well, there you go. This is how most users infect their machines with a pack of malware threats and potentially unwanted programs.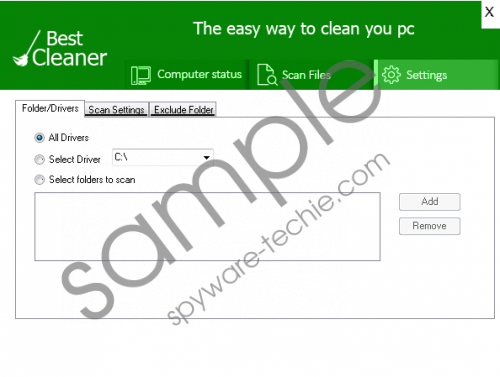 Best Cleaner screenshot
Scroll down for full removal instructions
These questionable pages are filled with unreliable third-party ads and other contents that do not even resemble ads at all. If you are unfamiliar with the particular website you land on, it is quite possible that you click on the wrong button, such as a fake download button, and end up downloading a whole package of malware threats (adware apps, browser hijackers, and more) as well as PUPs, of course. You can also be exposed to such infectious third-party ads and links if you already have adware or other malware infections on board that are capable of displaying third-party content. We hope that it is clear now why it is important that you scan your system with a reliable malware scanner (this can be a free online scanner) right after you delete Best Cleaner.
After you "accidentally" install this application, it makes sure that it starts up automatically every time you reboot your system. This is very annoying and potentially risky as well due to the possible exposure to unreliable third-party content that may come from this software. We also have to mention that this PUP has a suspiciously simplistic user interface and the whole tool is rather simple, to say the least. In all fairness, our researchers have found that this program can actually find file duplicates and clean up the temporary file folders. But at the same time, this PUP is mainly used for displaying potentially unreliable third-party ads by opening browser windows and loading all kinds of software suggestions and ads from notorious ad-supported programs, including Wizzscreenmode, WizzWifiHotspot, and WizzAppChecker. This is definitely not good news because you may click on content that could redirect you to harmful websites operated by cyber crooks whose only goal is to scam you or infect your computer with more threats. If you do not wish to find out what may happen to you by clicking on these commercials, you should not hesitate to act and remove Best Cleaner right now.
The only part of this application that is indeed worth mentioning and your attention is the uninstaller itself. You are lucky to have it because it makes your job so much easier. Instead of manually detecting and deleting folders and registry entries, you can simply locate this uninstaller through Control Panel and run it. This should leave no leftovers after the clean-up. Apart from becoming more alert while surfing the web and not clicking on random third-party ads, it is also important to keep all your drivers and programs updated if you want to protect your system from cyber criminals and their attacks. Nevertheless, the most efficient way to battle infections is the use of a trustworthy anti-malware application. Before you install one, make sure you do your research.
Best Cleaner Removal from Windows
Windows XP
Press Win+R and type Control Panel. Press OK.
Open Add or Remove Programs.
Select the application and press Remove.
Windows Vista/Windows 7
Open the Start menu and select Control Panel.
Choose Uninstall a program.
Select the uninstaller and press Uninstall.
Windows 8/Windows 8.1
Press Win+Q and type uninstall a program. Press Enter.
Choose the uninstaller and press Uninstall.
Windows 10
Press the Windows key on your keyboard and go to Settings.
Select System and choose Apps & features in the left panel.
Click on the uninstaller in the list and press Uninstall.
In non-techie terms:
Best Cleaner is a worthless and very simple program that pretends to be a PC cleaner application; however, instead of doing a good job at cleaning your computer, it may be the source of more issues, namely virtual security issues. This means that this potentially unwanted application can display potentially unreliable third-party ads through your browsers that can lead to malicious websites. Unfortunately, the presence of this software also indicates that there could be more threats on board than you may be able to single-handedly handle unless you are an advanced user. We suggest that you remove Best Cleaner from your system; the sooner, the better. If you do not want to go for manual removal, we recommend that you use a reputable anti-malware program to do it for you and also to protect your computer from future threats.