Do you know what BeepieBear is?
BeepieBear is an unreliable program that was created by SuperWeb LLC. Our malware research team identifies this program as adware, or advertisement-supported software, and suggests removing it as soon as possible. Even though this program cannot download malicious programs, steal your banking account information, or hijack your virtual identity, it is very risky to trust this program. If you do not delete BeepieBear from your operating system, you will be exposed to virtual offers that might lead you to malicious sites or expose you to malware installers and clandestine phishing scams. We have analyzed this threat to help you remove it from your Windows operating system.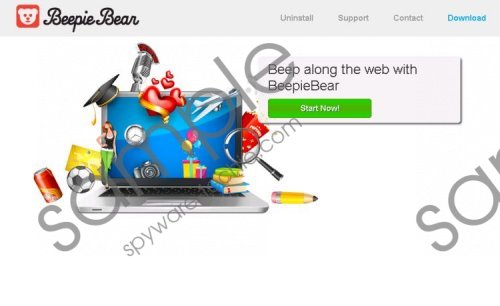 BeepieBear screenshot
Scroll down for full removal instructions
Depending on the malicious installer that you stumble upon, your operating system might get infected with any of the malicious BeepieBear clones. JoomiWeb, Write Results, Intense Results, and Screen Flip are just a few malicious programs that could be installed instead of BeepieBear, and all of them require immediate removal. Unfortunately, these ad-supported programs usually travel bundled with malware. Since the installer on beepiebear.com does not work, it is most likely that you will also need to remove BeepieBear-related malware that comes packaged with it. Even though the programs installed with this adware might be more dangerous, and its removal might be more important, deleting BeepieBear is also very important. As long as this adware is active, you will encounter suspicious, potentially unreliable ads whenever you browse the web. Keep in mind that these ads might be very attractive, but clicking on them is very dangerous. In conclusion, you should remove BeepieBear without paying any attention to its advertisements.
It is unlikely that you will need to deal with leftover files after removing BeepieBear in a manual manner. Unfortunately, the instructions below might not be suitable when removing the infections that travel bundled with this ad-supported program. If you have no experience deleting malware manually, we suggest using automatic malware removal software. You can rely upon reliable security software not only to delete BeepieBear and the associated infections, but also to guard your virtual security, which is very important.
Delete BeepieBear from Windows
Delete from Windows 8 & Windows 8.1:
Access the Charm bar (in Metro UI) and click the Search icon.
Enter Uninstall a program and open the utility represented with this name.
Right-click the program you want to remove from your PC and choose Uninstall.
Delete from Windows Vista & Windows 7:
Open the Start menu (click the Windows logo on the Taskbar).
Select Control Panel for more options and click Uninstall a program.
Right-click the program you want to remove from your PC and choose Uninstall.
Delete from Windows XP:
Open the Start menu (click Start on the Taskbar) and select Control Panel.
Double-click Add or Remove Programs and move to Change or Remove Programs.
Click the undesirable program once and choose Remove.
In non-techie terms:
Our malware researchers agree that BeepieBear is an unreliable ad-supported program that requires removal. The sooner you delete this infection from your operating system, the fewer security issues you will encounter, which is why we suggest following our removal tips to delete BeepieBear as soon as possible. Keep in mind that only reliable security software can protect your operating system from other infections, which is why you should install it if you do not want to worry about the removal of other threats in the future.