Do you know what BeatTool is?
There are plenty of adware programs being published nowadays and the reason why nobody likes them is the fact that they show ads. BeatTool is the newest product of Super Web LLC and it is going to display you different kinds of commercials as well. It means that its promises to enhance your browsing experience by providing tools for finding the best prices and deals are just words. Instead, it might ruin browsing sessions and even help malicious software enter your system, which is why we recommend erasing BeatTool from the system without any further delay.
BeatTool acts very similarly as previously published programs, for instance, MossNet, Trontizer, Cling-Clang, and Tronzolo. They all show various search-related ads, pop-ups, full-page, and in-text ads. You might notice even more than one advertisement on each page, which means that clicking on them and infecting your PC is not so difficult. It has been found out that you will always be redirected to other websites after clicking on any of those commercials. However, nobody is responsible for the content of these third-party pages, which means that it is possible to infect the system. Unfortunately, you will not be able distinguish unreliable websites from reliable ones.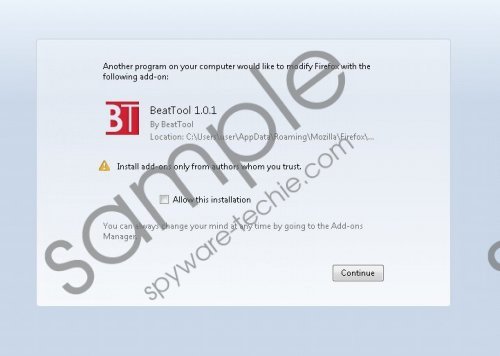 BeatTool screenshot
Scroll down for full removal instructions
You should also not trust BeatTool because it might secretly collect information about your browsing habits. This information includes your browsing history, the websites that you mostly visit, the time you spend on them, and your search queries. Besides, the program records such data as your IP address, internet service provider, and your approximate location. As you might understood, this is not personally identifiable data; however, we still recommend being cautious because there is no guarantee that third party advertisers that work with BeatTool do not do that. Do you want to prevent this from happening? Erase BeatTool from the system without hesitation.
You are free to erase BeatTool whenever you want to. You can use the manual removal instructions provided below or you can just scan your system with a reliable antimalware tool like SpyHunter. It will detect and erase all the existing threats, including BeatTool. We just want to remind you that you still have to scan your PC with a reliable tool if you choose the manual removal because there might be other undesirable threats residing in your system. For this matter, you can download a free reliable scanner; just click on the Download button below.
How to erase BeatTool
Windows XP
Open the Start menu.
Click Control Panel.
Select Add or Remove Programs.
Locate the useless program and click Remove.
Windows 7 and Vista
Click the Start button.
Locate Control Panel on the menu and then select it.
Click Uninstall a program.
Right-click on BeatTool.
Select Uninstall.
Windows 8
Right-click on the Metro UI background.
Select All apps.
Locate Control Panel and then select it.
Click Uninstall a program.
Right-click on the undesirable software.
Select Uninstall.
In non-techie terms:
You should definitely not expect anything really useful from advertising-supported applications because they have been published not for your benefit. Actually, the publishers of such programs seek to earn money from ads and you contribute to this by clicking on them. In general, it is better to avoid such applications because they might attract infections to your PC as well. You should not download suspicious applications and it is also better to use only reliable sources.