Do you know what BBQLeads is?
BBQLeads is a free browser add-on for those computer users who want to find specialists in different fields. The user provides his or her requirements or tasks that have to be completed, and BBQLeads locates professionals that meet the user's criteria. If the professional wants to take the job offered, he or she contacts the users. The same service is offered by PastaLeads, which is available on an identical website. The BBQLeads service is advertised at bbqleads.com and can also be bundled with other free programs, including browser extensions. If you have installed BBQLeads by mistake and are not going to use it, remove it from your computer as soon as you can, because this program will bombard you with third-party ads.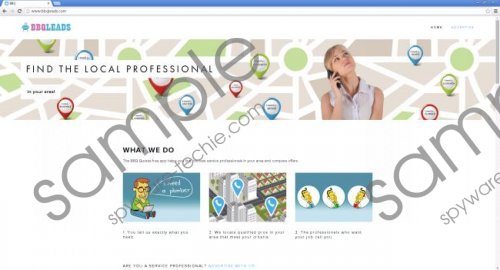 BBQLeads screenshot
Scroll down for full removal instructions
BBQLeads is a free service; as a result, computer users have to put up with web banners, pop-ups, coupons, and other types of advertisements. You can get rid of those ads only by removing the browser add-on, so do not wait any longer.
Similarly to other browser add-ons, the BBQLeads program records some non-personally identifiable information. Moreover, some personal information is also collected, which is done in order to provide you with the features, functions, and services of BBQLeads. The information collected may be used for various purposes, and it is important to note that information about you may be shared with third parties, i.e., affiliated companies, which usually want to change their advertising strategies.
By downloading and installing the BBQLeads program, you agree with the terms of use and privacy policy of the service, and this applies to every program that you install. It is highly advisable to pay close attention to every case of software installation, because careless installation may have adverse consequences.
If you are determined to remove BBQLeads from your computer yourself, we recommend that you rely on a powerful malware and spyware removal program. You should pay extremely close attention to your online security, especially when your computer has no reliable security program. An unprotected operating system can be easily compromised by various threats, so do not risk your privacy. Install SpyHunter, which removes BBQLeads and other similar programs in no time. Moreover, this program fights off Trojan horses, browser hijackers, ransomware, fake anti-virus programs, and many other threats.
How to remove BBQLeads
Windows Vista and Windows 7
Click Start.
Select Control Panel.
Click Uninstall a program.
Remove the unwanted application.
Windows 8
Press Win+R and enter control panel. Click OK.
Select Uninstall a program.
Remove the BBQLeads program.
Windows XP
Open the Start menu.
Click Control panel.
Click the Add or Remove Programs option.
Uninstall BBQLeads.
In non-techie terms:
BBQLeads is a program aimed at helping you find professional specialist in your area, but it is also capable of displaying third-party advertisements. In order to put an end to BBQLeads, install a powerful malware and spyware prevention program. We recommend using SpyHunter, which you can install using the instructions given below.