Do you know what Barrax Ransomware is?
Barrax Ransomware is yet another malicious program that you must avoid at all costs. It is not surprising that we advise you to do so since it is a ransomware program capable of malicious functionality. Like any other program of this classification, it can encrypt your data without any notification. This means that having it active on your PC could result in an enormous loss of data. To understand how this might happen and to learn more about the inner workings of this malware, be sure to read our article as we provide information gathered by our research team. You will also find a few virtual security tips that you should employ to maintain a fully secure operating system at all times. If you already have Barrax Ransomware active on your PC, make sure not to waste any time and delete it by following the instructions that you can find below.
Barrax Ransomware does not differ all that much in its functionality from other ransomware programs that are active nowadays. Usually, users with no advanced computer knowledge do not have any idea that this malicious program has entered their PC and is fully active. It is so because it works in a completely silent manner. The malware starts doing its dirty work right after it gains full access to your personal computer. Firstly, it scans the contents of your hard drive and then starts the encryption procedure. Each file affected by this malicious program is tagged with the .BarRax extension. Since the data is encrypted using a powerful AES-256 cipher, manual decryption is an impossible task. The ransom note that this program provides firstly informs you about the fact that you no longer have access to your personal data and that you need to visit a specific website for further instructions. As it turns out the web page that you are asked to enter is a legitimate one and is not associated with Barrax Ransomware in any way. It is important to note that we highly advise you to refrain from getting in touch with any suspicious sources for decryption services as you might face detrimental outcomes. For instance, cyber crooks that develop malicious software are known to use manipulative techniques to lure money from unsuspecting Internet users. If you ever notice Barrax Ransomware active on your personal computer make sure to take immediate measure to remove it as it is your best bet to limit the data loss triggered by it.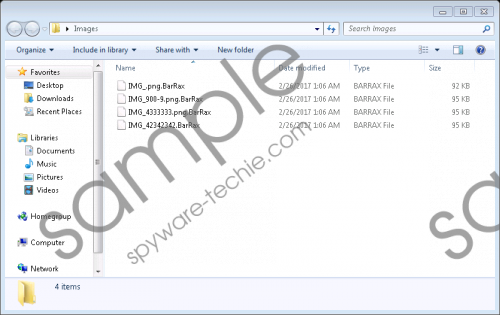 Barrax Ransomware screenshot
Scroll down for full removal instructions
If you want to have a fully secure operating system at all times, you must take a few preventative steps to improve your virtual security. First and foremost, make sure to install a professional antimalware tool if you do not have one already. Such a tool is the most important part of your virtual security since it can detect and delete any devious program in a fully automated manner. In addition to such a tool, it is important to practice safe browsing habits. You need to avoid all suspicious third-party download sites, which are known to host devious installers, which are often employed by cyber crooks to spread their devious software. To limit the chances of infecting your PC in such a way, make sure to obtain all of your applications from official developers' websites only. It is also paramount to refrain yourself from al suspicious e-mail attachments. We advise you to do so because in quite a few cases malicious programs such as Barrax Ransomware are spread via spam e-mail attachments disguised as something important. By practicing safe browsing habits along a reliable antimalware tool, you will make your operating system virtually unbreakable.
Do not waste any time and conduct a complete removal of Barrax Ransomware. Make sure to execute each step as a single mistake could lead to an incomplete removal. We highly advise you to double check your personal computer for suspicious leftovers of this ransomware once you are done with the manual removal. It is important to do so because traces of this malicious program could trigger its silent restoration. In other instances, those same leftovers might be enough for it to continue its functionality.
How to remove Barrax Ransomware from your PC
Open your File Explorer.
Go to C:\Users\(your username)\Downloads.
Select the malicious .exe file and remove it. Keep in mind that the name of this file is randomized.
Go to C:\Windows\SysWOW64.
Select the malicious .exe file and then tap Delete on your keyboard. Keep in mind that the name of this file is randomized.
Go to C:\Windows\System32.
Select the malicious .exe file and remove it. Keep in mind that the name of this file is randomized
Right-click the Recycle Bin and then select Empty Recycle Bin.
In non-techie terms:
We are well aware that quite a few users find manual removal a bit too complicated. If you happen to be one of these users, do not worry. Follow the instructions that we provide below and you will be able to delete Barrax Ransomware in an automated manner.