Do you know what Bang5Tao is?
This time we bring you an in-depth analysis of an adware program called Bang5Tao. It is recommended that you remove this utterly useless program, because of its malicious nature. It is considered malicious because it comes bundled with other programs and it is installed without the user's approval. Uninstalling this program will also prove frustrating, because its developers have purposely made it difficult to do so. However, we will soon change this, because our malware researchers have composed a guide on how to get rid of it. We recommend that you take a minute of your time to read this short article as it might help you avoid such infections in the future.
Our researchers have found that Bang5Tao's only purpose is to generate advertising revenue. However, unlike most adware, this particular program promotes only one website. The website is called B5m.com, which is a China-based online retailer. This program is in the mandarin language, which is not a particularly popular language in America and Europe, but, still, we have received reports that people from these regions still get it because of reasons we will discuss a bit later on. This program supports all major browsers and installs a browser extension on them. Unlike most ad-supported programs, this one seems to feature a special window that contains a list of promoted items the users can browse through. Although this is very neat, we think it is unnecessary. If you are one of those people who do not like to view commercial advertisements, then you ought to get rid of this program. However, it is not that easy.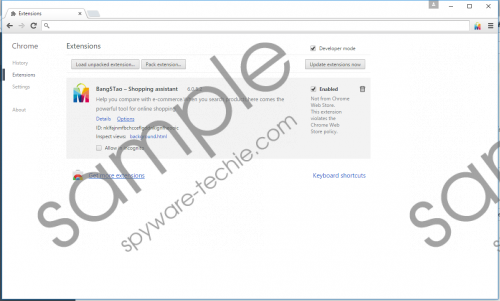 Bang5Tao screenshot
Scroll down for full removal instructions
It is obvious from the get go that Bang5Tao has been specifically tailored for the Chinese market. However, in this day and age nothing is confined to a certain locale. Our researchers have found that this program is distributed using two methods. The first one via a dedicated download-hosting website called T.b5m.com. But most people get this program via software bundles that are put up for download on free software distributing websites all around the world. It is quite easy for malware developers to make arrangements for bundling a certain program, because the distributors get a cut of the profits. Once again, Bang5Tao differs from other adware programs, because it comes uninvited. This means that you cannot opt out its installation, at least in most cases.
As previously mentioned, Bang5Tao is difficult to remove but not impossible. Its uninstaller is compromised so you cannot uninstall it via the Control Panel. But you can do it manually. All you have to do is end its numerous processes via the Task Manager and Delete all of its files from two hidden locations. After you have done that you should remove the browser extensions which will still be present. So do not hesitate to do it yourself, because it is not as difficult as it seems.
Bang5Tao removal guide
Open the Task Manager by Right-clicking the Taskbar and clicking Start Task Manager.
Select Processes and locate the numerous Bang5Tao processes.
Right-click on them and click End process.
Then open Windows Explorer by tapping Windows Key+E.
Enter %LOCALAPPDATA%\B5T and Delete all folders and files.
Then, go to %UserProfile%\Local Settings\Application Data\B5T and also Delete all files and folders.
Remove Bang5Tao's browser add-on
Microsoft Internet Explorer
Open the browser
Press Alt+X and select Manage Add-ons.
Click Toolbars and Extensions.
Remove the extension.
Click Close.
Google Chrome
Launch the browser.
Press Alt+F.
Click More tools.
Click Extensions.
Find the undesirable plug-in.
Click Remove.
Mozilla Firefox
Open the browser.
Press Ctrl+Shift+A.
Click Extensions.
Remove the application.
In non-techie terms:
Bang5Tao is an adware-type program developed for the Chinese market. However, since it is distributed via software bundles, you can also get it on your computer anywhere in the world. It promotes an online Chinese shopping web, so its ads are irrelevant if you do not live there. This program is annoying so if you want to remove it but do not know how, please consult the provided removal guide.