Do you know what Back to Back is?
Back to Back is one more adware program that has been roaming the web lately. If, unfortunately, your PC is already infected with this invasive adware application you must know that its removal should be executed immediately. Even though Back to Back is advertised as an excellent tool that would help you improve your online searching experience, you must know, that in reality it does nothing like that. In fact, the only thing that Back to Back is capable of is disturbing you every single time you browse the web. If you are a security conscious user, removal of Back to Back should be your utmost priority. Make sure to use the removal guide provided below as it is easy to follow and will help your delete this adware in no time.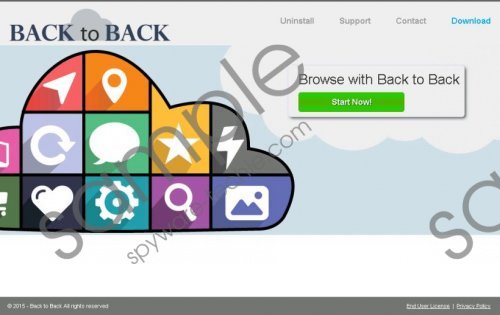 Back to Back screenshot
Scroll down for full removal instructions
Since it has been discovered that Back to Back is yet another adware produced by the SuperWeb LLC group it is not surprising that it functions like other adware programs developed by this infamous group. Once this adware program gains access to your operating system, your web browser will be flooded with various third-party commercial ads and annoying pop-ups. This activity will make your life miserable as you will be forced to fight through annoying ads and pop-ups every time you browse the web. In order to restore the normal functionality of your web browser make sure to conduct a complete removal of Back to Back as it is the only way to stop this invasive activity.
Unfortunately, there is something much worse about Back to Back. During the research malware experts at Spyware-Techie.com have discovered that this adware could act in an entirely malicious way. It has been noticed that some ads provided by Back to Back could be implemented with redirect links. This is an extremely dangerous instance because you could be redirected to suspicious third-party websites, which might be running an arbitrary code execution exploit meaning that landing on such a website, is more than enough to get your PC infected with some potentially malicious program. If you wish to maintain an operating system that is clean, secure, and fully functioning removal of Back to Back is essential.
The removal process is rather simple as you can delete Back to Back via Control Panel. Even though, the removal is easy, make sure to pay your utmost attention to all the required steps because a single mistake could mean that Back to Back is still active on your PC. In order to be sure that Back to Back was removed entirely conduct an in-depth analysis of your PC for potential leftovers.
How to remove Back to Back from your PC
Remove Back to Back from Windows Vista and Windows 7
Click the Windows button.

Select Control Panel.
Click Uninstall a program.
Select Back to Back.
Click the Uninstall button.
Remove Back to Back from Windows XP
Click Start and then select Control Panel.
Click Add or Remove Programs.
Right-click Back to Back and select Remove.
Remove Back to Back from Windows 8
Move the mouse pointer to the lower-left corner of the screen.
Right-click and then select Control Panel.
Click Uninstall a program.
Select Back to Back and click Uninstall.
In non-techie terms:
Some users might find manual removal and in-depth analysis of their a bit too complicated. If you are on of those users do not fear as the instructions provided below will help you delete Back to Back in a quick and automatic way ensuring that the infection was remove entirely.