Do you know what Baboom is?
Baboom is promoted as an Internet radio player that enables you to listen to music directly from your browser. It is quite an interesting concept. However, it is plagued by commercial advertisements that will hamper your browsing experience. Therefore, we recommend that you remove this application from your browser. As if advertisements were not bad enough, the extension's main function, which is to play music, does not always work. So we think that Baboom is not worth your time and you will be better off if you get another application. We have more things to say about this application, so if you are interested, please stay tuned.
Baboom is a Chrome-exclusive application created by a software developer known as Linkury. This small-time company specializes in web monetization services, which means that it is in the business of creating adware-type applications. This radio player is promoted on a website called Baboom.audio. If you want to download this application, its website should redirect you to Google's Chrome Web Store. However, the link currently does not work, but you can find it manually on the web store. And many people do, because they think that it is safe. We want you to know that not everything featured on the Chrome Web Store is safe and worthy of your attention. Sometimes adware slips by posing as useful extensions that have something to offer.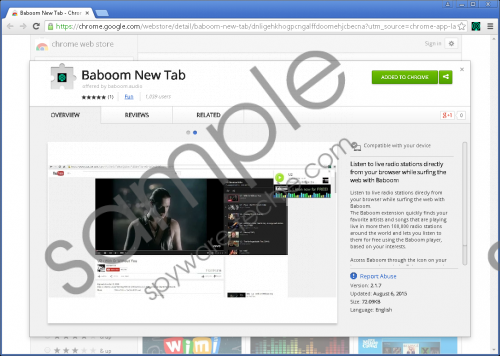 Baboom screenshot
Scroll down for full removal instructions
It seems that Baboom has a useful function to offer, but the user experience is not that great. It actually resembles the Internet radio application that oftentimes comes as part of Mindspark's bad toolbars, such as 100sOfRecipes Toolbar, FreeRadioCast Toolbar, InternetSpeedUtility Toolbar. like Mindspark's radio application, Baboom sometimes refuses to play a particular radio station. You can test the radio for yourself at the program's website by clicking "ListenLive" on the top-right of the screen.
If you install Baboom it will change your homepage to its custom search engine that is powered by Yahoo. But, you can change it back to your preferred one via the browser's settings. However, this programs biggest drawback is that it displays commercial advertisements and promotions that will link you to their partners, suppliers, advertisers, sponsors, licensors, and other third parties. So the list of entities associated with Linkury and its radio player is quite extensive. We are in favor of removing Baboom, because its promotions and ads are irritating and can even be misleading.
We have also found that this application can collect information that includes but is not limited to visited pages and search logs. This information is collected for analytical, security, and service improvement purposes. However, the Privacy Policy indicated that the company might share this information with "trusted service providers" and other third parties, such as advertisers, ad networks, and retailers.
Therefore, from a security point of view, Baboom is an unreliable application. Even though the information is not personally identifiable, you might not want to share it with unknown entities, especially shady advertisers, because online advertisements provided by adware applications are notoriously misleading. If you want to remove this application, please see our removal instructions for Google Chrome below. Remember that there is always a better alternative than an ad-supported program.
Remove Baboom from Google Chrome
Open the browser.
Simultaneously tab Alt+F.
Click Settings and go to Extensions.
Find Baboom and click Remove from Chrome.
Done.
In non-tech terms:
Baboom is an adware application that also functions as an Internet radio player. Its developers want to give you the impression of legitimacy by providing a useful function, which is not all that useful, because oftentimes the radio does not work or refuses to play a certain radio station. It displays commercial advertisements that are annoying and misleading, so there are apt to subject you to unreliable content. Therefore, it would be best if you removed Baboom altogether.