Do you know what Azer Ransomware is?
It is probably the worst nightmare that can hit you when a dangerous threat like Azer Ransomware can sneak onto your system. You will not notice anything about this infection entering your computer until it finishes its encryption. This means that you cannot possibly catch it red-handed and stop it in the act. This is how you can lose all your personal files, including your archives, documents, images, and more unless, of course, you are a security-minded user and you regularly back up your files. Your attackers offer you the decryption key for a certain amount of ransom fee. But you should not get your hopes high because experience shows that such criminals rarely deliver as promised. It is always risky to pay because you may get nothing for your money. We believe that the most important thing is to remove Azer Ransomware from your computer because there is no other way as of yet for you to be able to restore your system or your files. Please note that eliminating this ransomware from your PC does not mean that your encrypted files will be recovered.
Our researchers inspected this ransomware in our internal lab and found that it belongs to a known family called CryptoMix Ransomware. It seems that there are only minor differences between this new version and the previous ones based on CryptoMix. It is quite possible that you infect your machine with this dangerous program by opening spam mails. This threat can spread as a malicious attachment that may look like an image or a document file; however, in reality, it is the malicious executable file itself. Obviously, when you open this file, you will not find what you try to look for; instead, you will start up the devastation that will possibly cost you your files. It will not help you even if you delete Azer Ransomware and all the related files as well, this will not bring your files back to life. This is why it is essential that you avoid such an attack in the first place.
Apart from spam e-mails, you may also drop this infection onto your system after being redirected to a malicious page created with Exploit Kits. It is possible that you click on a third-party ad while surfing the web or you click on a corrupt link presented by the search results of a browser hijacker, and this is how you get redirected to such a dangerous page. You should know that the moment this page loads in your browser, the malicious code is triggered to drop this infection. In other words, you have no chance to stop this malicious attack unless you keep all your browsers and drivers always up-to-date. As a matter of fact, these attacks exploit older versions, i.e., the security holes in previous releases.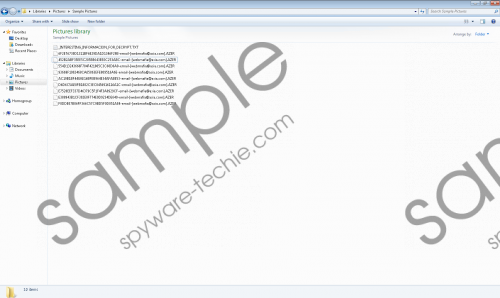 Azer Ransomware screenshot
Scroll down for full removal instructions
Yet another possibility is that you have remote desktop software on your computer and it is not well protected so these cyber crooks can hack into your system through this software and manually infect it with this ransomware program. This is another type of attack that you will not see coming unless your PC is protected by a serious anti-malware program. As you can see, there are a couple of ways this dangerous threat can appear on your computer and destroy your files beyond possible repair. Therefore, we suggest that you remove Azer Ransomware ASAP.
Similarly to most other ransomware infections, this threat also applies the AES encryption algorithm, which is further encrypted with an RSA-1024 key. In fact, this malware program does not communicate with a remote server to retrieve this key; there are 10 hard-coded RSA keys instead. The encrypted files get a new encoded name and extension that may be something like "76C2CAE043E09E61E2C5B0A04A387CA9-email-[webmafia@asia.com].AZER." When the damage is done, this malicious program drops a ransom note text file named "_INTERESTING_INFORMACION_FOR_DECRYPT.TXT" to all infected folders. The note does not contain too much information; no mentioning of the price, whether you have to pay it in Bitcoins as usual, no information regarding buying Bitcoins, or anything really. In fact, there are only two e-mail addresses mentioned (webmafia@asia.com and donald@trampo.info) and your ID number. You have to send an e-mail to one of these addresses if you want to get the decryption key. But we do not advise you to write an e-mail and pay the fee. Instead, you should remove Azer Ransomware right away.
It is not too difficult to eliminate this dangerous threat but you do need to be able to identify the suspicious value names this infection creates in your Run registry key. Once you find those, you can also locate the malicious .exe file in your %Appdata% folder and the one you may have downloaded from the spam or any other way. Please use our guide below as a reference if you want to put an end to this nightmare yourself. However, if you prefer automated solutions, we suggest that you download and install a trustworthy anti-malware program (e.g., SpyHunter) that will automatically detect and destroy all known malware threats on your system.
Remove Azer Ransomware from Windows
Tap Win+E to launch your File Explorer.
Delete the malicious file you saved from the spam. You may find it in default download folders: %Temp%, Downloads, Desktop, %Appdata%, and %Localappdata%
Delete the random-name malicious file from "%AppData%" (it could be called "BC0EBCF2F2.exe").
Delete the ransom note files ("_INTERESTING_INFORMACION_FOR_DECRYPT.TXT") from all directories.
Empty the Recycle Bin.
Tap Win+R and enter regedit. Hit the Enter key.
Locate and remove the two random-name value names in "HKEY_CURRENT_USER\Software\Microsoft\Windows\CurrentVersion\Run" registry key where the value data contains the location of the malicious file in "%AppData%" ("BC0EBCF2F2.exe" or something similar).
Close the editor and reboot your computer.
In non-techie terms:
Azer Ransomware is a severe threat to your files and your system if it manages to slither on. This ransomware infection can encrypt your personal files in a short time and render them useless and inaccessible. As per the ransom note, you have to send an e-mail to these crooks to receive further instructions about the payment for the decryption key. Although it is all up to you what you decide to do but we definitely do not recommend that you pay any amount of ransom fee. Unfortunately, there is little chance for you to get anything in return other than another malicious attack. If you have a backup, you can copy your clean files back after you remove Azer Ransomware from your system. If you need proper protection to feel secure while you are using your computer, we recommend that you install an up-to-date anti-malware program.