Do you know what Awesome Shoppers is?
Adware applications are not very dangerous, but we can all agree that they are very irritating and seem to appear out of nowhere. Removing such programs is very satisfying, as it gives your computer a breath of fresh air so to speak and make it run faster. Awesome Shoppers is one adware program that you will want to get rid of, because its only purpose is to make money for its developers and their clients. It is claimed that this program features a unique and advanced algorithm that will always find you the best available deals. Our researchers did not buy such an obviously fabricated claim and have found that Awesome Shoppers is no different from the rest of the adware out there on the web. This application is quite rare these days, but it is of utmost importance to make people aware of it.
This application has been created by an unknown software developer. However, the information found on Awesome Shoppers's website at Awesomeshoppers.com suggests that its developer is based in Tel Aviv, Israel, since the End User license agreement is subject to Israeli law. This application cannot be downloaded from its main website. It might be possible to get it from websites that bundle legitimate applications with programs such as this, but, to date, we have not received any information regarding its dissemination methods. Therefore, we ask our readers to fill in this information gap in the comments section located below.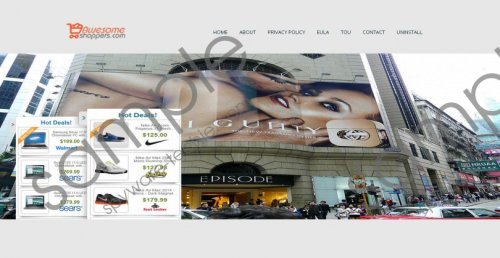 Awesome Shoppers screenshot
Scroll down for full removal instructions
The main purpose of adware applications is to generate revenue for its developers and their clients. Needless to say, this is a very profitable business, which is probably why adware applications are produced on such a massive scale these days. Every developer employs different marketing strategies, and, in the case of Awesome Shoppers, it explicitly states that it displays commercial content - not just any content, but content that you are most interested in, because it is determined by their revolutionary algorithm. Of course, in reality, there is nothing revolutionary about it. Awesome Shoppers is a plain adware program that is limited to displaying coupons that seemingly promote merchandise sold on online retail websites such as Walmart.
This program's developers try to give the impression that they are a responsible advertising company that just happens to have dealings with the biggest online retail websites in the US. However, we think this is an outright lie, since such large companies would never enter into a business agreement with another company that does not even publish its name. We have found that its supposedly advanced algorithm does not work. This program displays random ads that just redirect users to a retailer's main website. Of course, Awesome Shoppers's owners have to make money somehow, so that is why they collect information about your browsing habits. The Privacy policy does state that the software collects information such as "browser name, IP address, the type of computer User use and technical information about Users means of connection to the Software (such as the operating system and the Internet service such Users utilize and other similar information)." However, we think that it might also gather more useful information such as search and browsing history if they really want to tailor specific ads. In any case, the probably make money by selling this information to third-parties, because its ads do not appear to link to unreliable websites.
So you might want to remove Awesome Shoppers, because it will not deliver on its promises to help you save money by displaying better product prices. It will display random ads that come exclusively as coupons. They are not very intrusive or annoying, but, still, they may be misleading. On top of that the application will gather information about you, which will be shared with third parties. All in all, it is a worthless application that you can remove using our removal instructions.
Remove Awesome Shoppers
Windows 10
Enter Control Panel in the search bar found on the Taskbar.
Go to Uninstall a program and find Awesome Shoppers.
Right-click on it and click Uninstall.
Windows 8/Windows 8.1
Navigate the mouse to the lower left corner of the screen.
Click the Windows logo to open the Start Screen.
Type in Uninstall in the search box and go to Settings.
Click Uninstall a program.
Find Awesome Shoppers.
Right-click on the program.
Click Uninstall.
Windows 7/Windows Vista
Navigate the mouse to the lower left corner of the screen.
Open the Start menu.
Select Control Panel.
Click Uninstall a program.
Find Awesome Shoppers and right-click on the program.
Click Uninstall.
Windows XP
Navigate the mouse to the lower left corner of the screen.
Open the Start menu and open Control Panel.
Click Add or Remove Programs.
Find Awesome Shoppers and click Remove.
How to remove the Awesome Shoppers browser extension
Mozilla Firefox
Simultaneously tap Ctrl+Shift+A and select Extensions.
Find and Remove Awesome Shoppers.
Microsoft Internet Explorer
Simultaneously tap Alt+T and select Manage Add-ons.
Find and Remove Awesome Shoppers.
In non-techie terms:
Awesome Shoppers is a simple yet useless adware program that has been created to make money for shady entities. It does not bring anything beneficial to the end-user experience, because it displays randomly selected ads, regardless of the fact that it claims to use an advanced, targeted advertising algorithm. Furthermore, it can collect non-personal information about you and sell it to third parties. We invite you to remove Awesome Shoppers due to its questionable reliability.