Do you know what AwayTab is?
If you are always looking for cheap plane tickets, you might find AwayTab useful. This extension asks for a user's physical location and then shows available flight offers in the area. Despite this seemingly helpful function, the plugin could be undesirable among users who do not want to reveal their physical location. Also, you should know that the application falls under the classification of potentially unwanted programs. To find out other reasons for which the tool ended up in the mentioned category, we encourage you to read our full report. On the other hand, if you came here seeking guidance to erase AwayTab manually, you could slide below this article and follow our provided removal guide. To leave a question about this potentially unwanted program or message to us, you should use the comments section available at the end of this page.
The first thing about AwayTab we would like to talk about is where it might come from. Some users may come across it while visiting the Google Chrome Webstore page, where it is described as a tool that allows you to "Discover a new place to travel to in every new tab you open." However, our computer security specialists say that same as other potentially unwanted programs, the plugin could be distributed with unreliable advertisements, and users who interact with them could be redirected to the application's official site called awaytab.com. If you have visited this site, you might have noticed that it does not contain Privacy Policy, End User License Agreement, or Terms of Use. Why is it crucial for websites, platforms, and software to provide the listed papers? Each of them contains details that a user should know before he starts using a product or a service. For example, details like what kind of data could be gathered by a program and ho its developers could use it or share it with other interested parties.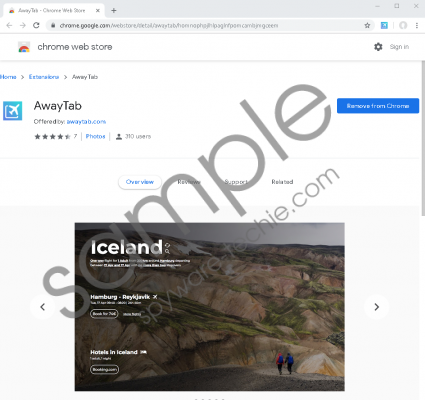 AwayTab screenshot
Scroll down for full removal instructions
Next, we should discuss what happens if a user installs AwayTab. The first thing we ought to mention is that the plugin is compatible only with Google Chrome, which means it may not work on other browsers. Moreover, our researchers noticed that it requires a couple of specific permissions upon its installation. One of the requirements asks to allow the extension to "Replace the page you see when opening a new tab." If you agree with it, the next time you create a new tab, you should be redirected to AwayTab's web page, which may show various travel deals and plane ticket offers. As for the second permission, it asks to allow the potentially unwanted program to "Detect your physical location." While such information might be needed to show targeted advertising content, some users may feel as if the tool is violating their privacy. Naturally, if you do not like the changes this application makes for your new tab or if you do not want your location to be tracked, we advise deleting this plugin.
Users who choose to eliminate AwayTab have a couple of options. The first one is to get rid of the potentially unwanted program manually. You can do so if you access your browser's extension menu and erase the unwanted plugin from there. If you need any help with this task, do not hesitate to use the removal guide available below. The second option is to leave the application's deletion to a reputable antimalware tool of your choice.
Erase AwayTab
Launch Google Chrome.
Press ALT+F.
Tap on More Tools and select Extensions.
Choose AwayTab.
Press Remove.
Click Remove again to finish.
In non-techie terms:
AwayTab is a plugin that works on Google Chrome. What you ought to know about it is that computer security specialists consider it to be a potentially unwanted program. That is because the extension does not provide the Privacy Policy or Terms of Use documents, may gather information about a user, and might be spread through unreliable sources. Thus, the application might not be considered malicious, but we would still advise not to lose your guard with it. If you decide you do not want to keep a potentially unwanted program on your computer, you can get rid of it while following the removal guide available above this paragraph. For users who do not want to erase AwayTab manually, we recommend using a reputable antimalware tool of their choice. With a security tool, you could delete the unwanted extension and potential threats that could be hiding on your system by performing a full system scan and pressing the tool's displayed deletion button.