Do you know what Avcrypt Ransomware is?
According to our computer security specialists, there is a possibility Avcrypt Ransomware could not only damage files on the computer but also try to delete the antimalware tool installed on it, although so far none of the samples we came across were able to achieve this. However, from what we have learned while testing this malicious application it looks as if it is not yet finished. To be more precise the Avcrypt Ransomware that could be distributed right now might be just a test version. Consequently, there is a chance the cybercriminals behind it may later update it, and it is possible it could be more vicious or capable than before. If you do not want to encounter such infections in the future, you should see the rest of the article and find out what to do to avoid similar malware and protect data in the computer from ruin. Later in the article, we will discuss the malicious application, and at the end of the article, our readers should find a removal guide too; it will explain how to eliminate the threat manually.
Truth to be told, in lots of cases, users are the ones to blame for allowing threats like Avcrypt Ransomware settle in. As you see some cybercriminals choose to spread their created malware by sending infected files through email. The computer gets infected the moment you launch the attached file. Situations like these occur among users who act carelessly with suspicious attachments. A smarter choice would be to check the questionable data with a reputable antimalware tool first or ignore it if it does not look too important and is not something you waited for.
What's more, there are malicious applications that travel with bundled software installers distributed through torrent and other untrustworthy P2P file-sharing networks. If you visit such sites yourself, you should stay away from them in the future. It would be much safer to download programs from legitimate web pages only and reliable developers. Plus, we would advise choosing a comfortable way to backup important files. If you have copies somewhere safe from the computer, you should be able always to restore your precious data. Just to be safe, users can keep copies in a couple of different places, e.g., cloud storage and removable media devices.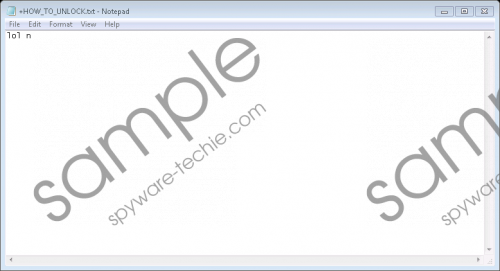 Avcrypt Ransomware screenshot
Scroll down for full removal instructions
Shortly after Avcrypt Ransomware settles in the malicious application should try to get rid of the antimalware tools it detects. The next task is to encipher files that do not belong to the operating system or other vital software, e.g., it could be photos, archives, videos, text or other documents, and so on. You should be able to easily recognize ruined data by just looking at it as it might be marked with "+" symbol. For instance, +document.docx, +party.avi, +sunset.jpg, etc. Removing the additional symbol will not make any difference as to decipher such data the victim would need particular decryption tools.
The file titled +HOW_TO_UNLOCK.txt should contain instructions on how to purchase the needed decryption tools, but it looks like it is not finished either as it only says "lol n" and does not even explain how to contact the cybercriminals behind Avcrypt Ransomware. This means if you encountered the version we just described you do not have to think about paying the ransom. Therefore, our computer security specialists recommend deleting the malicious application with no hesitation.
Users who would like to get rid of it manually should follow the removal steps available below as they will explain how to find and eliminate all data associated with the malware. An easier option would be to acquire a reputable antimalware tool and let it deal with the threat for you.
Erase Avcrypt Ransomware
Click Ctrl+Alt+Delete.
Open Task Manager.
Pick the Processes tab.
Look for a process belonging to the threat.
Select it and click the End Task button.
Leave Task Manager.
Press Windows Key+E.
Check the following paths:
%TEMP%
%USERPROFILE%\desktop
%USERPROFILE%\downloads
Search for the infection's launcher.
Right-click it and choose Delete.
Navigate to %APPDATA%
Find another malicious executable file, right-click it and select Delete.
Exit File Explorer.
Tap Windows Key+R at the same time.
Insert Regedit and press Enter.
Find this specific directory: HKCU\Software\Microsoft\Windows\CurrentVersion\Run
Search for a randomly titled value name (e.g., Windows).
Right-click the value name and click Delete.
Exit Registry Editor.
Empty Recycle bin.
Restart the computer.
In non-techie terms:
Avcrypt Ransomware is a malicious application that can ruin data on the computer in just a couple of minutes. Our computer security specialists say during the tests the malware also tried to get rid of antimalware tools installed on the device, but it was unable to succeed. Keep it in mind, no matter how vicious threat you encounter there are always ways to keep your private files safe. As we talked in the main text, you can backup your files, and if the original data gets ruined or encrypted as in this case, you can replace it with copies. As for paying a ransom we never advise it since there is always a possibility the user could get scammed. Of course, with this threat victims have no options as the hackers do not leave any instructions. Thus, if you encountered this infection, we recommend erasing it immediately with the removal guide available above or a reputable antimalware tool you trust.