Do you know what Autotron Ransomware is?
Autotron Ransomware is a somewhat unusual file-encrypting infection. For starters it seems to be the malware enciphers only files of a particular size. Besides, our computer security specialists report the malicious application encrypts different file types based on the targeted directory. As you keep reading our article, we will explain the threats working manner in more details. Plus, further, in the text, we will discuss its possible distribution channels and removal options. Autotron Ransomware's creators may ask for a ransom to be paid and promise to decrypt your files, but it is entirely possible they might scam you and leave you with no data and a lighter wallet. Therefore, instead of doing what the malware's creators want you to do we would recommend erasing the malicious application. It will not decrypt any data, but it will help you secure the system for a fresh start. To learn how to delete it manually, we encourage you to check the instructions available a bit below the main text.
First of all, we would like to discuss the possible Autotron Ransomware's distribution channels. Our computer security specialists report the malware could enter the system through infected Spam emails, malicious software installers, and so on. It means to avoid similar threats in the future users should watch out for unreliable data available on torrent or other file-sharing web pages, Spam emails, and so on. In addition, we would recommend keeping a reputable antimalware tool installed as it might be able to recognize the infection in time and stop it from damaging the victim's files.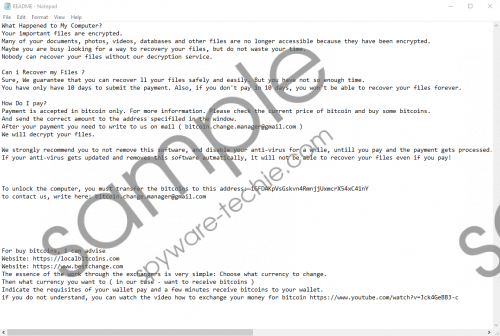 Autotron Ransomware screenshot
Scroll down for full removal instructions
Nonetheless, if Autotron Ransomware enters the system it should look for files of less than 15728640 bytes in size and start encrypting them one by one. The most important part is the research shows the malware encrypts only specific file types in a few selected directories on the C: disk and other possible disks. For example, in %LOCALAPPDATA% the malicious applications enciphers only the files with .rar, .dat, .key, .db, and .properties extensions and in %USERPROFILE%\Desktop the infection may damage data with these extensions: .exe, .dll, .zip, .rar, .7z, .sfx, .txt, .db, .sql, .bat, .vbs, .pdf, .xls, .cfg, .doc, .docx, .jpg, .jpeg, .bmp, .mp3, .mp4, .mov, .key, .PSD, .torrent, .cs, .cpp, .au3, .ahk, .rb, and .pb. After all targeted files are marked with the .tron extension Autotron Ransomware should show a ransom note asking to pay some bitcoins and contact the malware's creators.
Furthermore, the ransom note should say the enciphered files will be decrypted once the payment is made, but keep it in mind a single Bitcoin at the moment of writing is around 9,311 US dollars. The threat's creators ask for "some bitcoins," but how much will be enough for them? In other words, who is to say the cybercriminals will not keep asking for more and more. Not to mention there are no guarantees they are even capable of decrypting any files. This is why recommend not to risk your money and eliminate Autotron Ransomware instead. To recover encrypted data one could use backup copies located on cloud storage, removable media devices, etc. To delete the malicious application manually, you can follow the instructions available below, and if you prefer using automatic features, you should employ a reputable antimalware tool.
Erase Autotron Ransomware
Click Ctrl+Alt+Delete simultaneously.
Pick Task Manager.
Take a look at the Processes tab.
Locate a process related to this malicious program.
Select this process and press the End Task button.
Click Windows Key+E.
Navigate to the suggested paths:
%TEMP%
%USERPROFILE%Desktop
%USERPROFILE%Downloads
Find a file that was opened when the system got infected.
Right-click the malicious file and select Delete.
Get rid of all files called README.txt.
Leave File Explorer.
Empty Recycle bin.
Restart the computer.
In non-techie terms:
Autotron Ransomware is a threat that can encrypt some of the user's files located on the computer and removable media devices attached to it. Thus, if the moment you infect the system you have a few devices connected to it the consequences could be rather severe. However, it depends on the files you keep on the locations available to the malware. It locks only those files that are less than 15728640 bytes in size. Also, the infection might encipher different file types in specific directories. In other words, to estimate the damage you will have to go through the directories where you keep various files and see if they are marked with the .tron extension. Some users might consider paying the ransom if the enciphered files are too precious and cannot be restored in any other way, but we would not recommend doing so as it is quite possible the cybercriminals could scam their victims. Those who do not want to risk could erase the malicious application manually while following the removal guide located above. Another way to get rid of this threat is to scan the system with a reputable antimalware tool.antimalware tool.